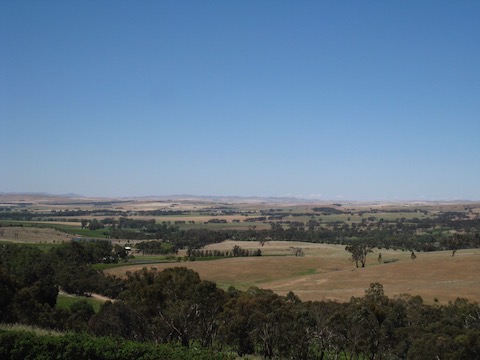 A few years ago our local bottle shop had discounted stocks of the Paulett Polish Hill River Riesling, most of which found their way to the Little House of Concrete. 
They had renewed my long-standing interest in Riesling, so I was looking forward to a visit and taste. 
Apart from a five-star rating from Mr Halliday, the note on the iPod mentioned magnificent views across the Polish Hill River region, 
As we pulled into the car park and looked across the countryside words like gob-smacked sprang to mind.
The tasting notes I scribbled while I was there disappeared somewhere along the track. 
The publicity material that remained on hand might have provided an opportunity to cheat a bit and reconstruct from memory, and internet access could have fleshed that material out into something resembling an authentic review. 
But an eight or nine-day gap before I'd be able to use that line of inquiry means it's probably best to state that I was highly impressed (once again) and leave it at that.