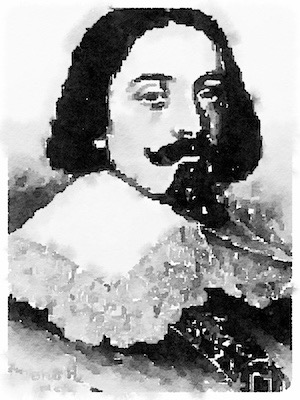 Dutch mariner and merchant Abel Janszoon Tasman (1603 –1659) was the first European known to reach Tasmania (which he named Van Diemen's Land), New Zealand, and the Fiji islands in 1642.
Tasman was born in Lutjegast, a village near Groningen. He was already a 28-year-old widower with an infant daughter when he married Joanna Tiercx in January 1632. A year later he sailed from the Texel to Batavia as an ordinary seaman but must have displayed significant ability along the way or immediately after he arrived in Batavia.
He was the first mate of a vessel trading between Batavia (now and the Moluccas by February 1634 and skipper of the Mocha, later that year.  A voyage to Seram where the locals had sold spices to the VOC's European rivals saw a narrow escape from death when several of his companions were killed after an incautious landing. 
He returned to Holland in August 1637, signed on for another ten-year stint with the VOC the following year and sailed for Batavia as skipper of a flute, taking his wife with him after an unsuccessful attempt to sell off his property at home.
After some commercial voyages, he was appointed second-in-command of a two-ship expedition under Matthijs Quast which set sail to locate islands believed to lie to the east of Japan in June 1639. The unsuccessful mission returned in November, and despite a significant death-toll, Tasman offered to repeat the exercise. The VOC had other priorities and sent him on trading voyages to Japan and Cambodia instead.
Then, in 1642 the VOC's Council of the Indies despatched Tasman and Franchoijs Visscher in two small ships, the Heemskerck and the Zeehaen, to investigate the waters to the south and east of the known portions of the Australian continent. The expedition departed from Batavia in August, travelled via Mauritius, and discovered the previously unknown Van Diemen's Land (Tasmania), New Zealand, Tonga Islands and some of the Fiji archipelago, returning to Batavia around the north coast of New Guinea. 
Back Batavia in June 1643 Tasman was chosen to participate in an expedition to establish a settlement in Tonga that could serve as a base to raid Spanish interests on the coast of Chile.
While the expedition was being prepared, Tasman was delegated to investigate a possible passage into the South Sea between Carpentaria and Australia's western coast. His previous voyage seems to have been an unsuccessful search for the passage's eastern outlet; now Tasman was directed to find it from the other side. 
But it was not to be. He set out with three vessels (Limmen, Zeemeeuw and the tender Braek) at the end of January 1644, followed the coast around from Cape Valsche on the southern edge of New Guinea to Cape Cloates in the Pilbara, but failed to find the desired passage. Like Jansz and Carstensz before him, reefs and islands obscured a potential route through Torres Strait, and with the northern outline of Australia's coastline more or less complete, there seemed little point in further investigation.
As a result, the plan to raid Chile lapsed for want of a shortcut that would get the raiders there. After his return in August 1644, Tasman was rewarded for his efforts with a promotion, substantial back pay (to the beginning of his first expedition in 1642) and an appointment to the Council of Justice at Batavia. He led diplomatic missions to Sumatra in 1646 and Siam in mid-1647, and an eight-ship fleet sent to intercept and the Spanish Manila galleon in May 1648. His conduct in the latter operation was unsatisfactory (he hanged one of his men without trial), and after his return, in January 1649 he was removed from office. While he was reinstated in January 1651, he did not stay long. Soon afterwards he retired from the VOC's service and became a merchant. He was a wealthy man and one of Batavia's largest landowners when he died there on 10 October 1659.
Although Frans Visscher, published a Memoir concerning the 1642 voyage, Tasman's journal was not published until 1898, although some of his maps and charts were in general circulation much earlier. Despite the Dutch government's zealous secrecy, the results of Tasman's voyages found their way to a wider public through maps and globes produced by Joan Blaeu between 1645 and 1648.