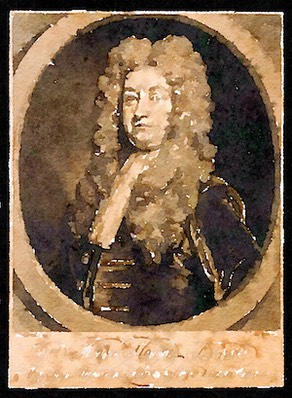 British physician, naturalist and collector, Sir Hans Sloane (1660–1753) born in Killyleagh, County Down, 'descended of a Family originally of Scotland, but settled in the North of Ireland upon the new Plantation of that Part of the Kingdom in the Reign of King James I'. 
At the age of nineteen, he moved to London to further his education, studying chemistry, anatomy and physic, along with botanical studies in Chelsea. In the course of those studies, he came under the influence of John Ray and Robert Boyle, who became lifelong influences on Sloane's interests. 
After four years in Sloane moved on to Paris for a three-month stint of intensive study. From there to the University of Orange-Nassau where, on 27-28 July 1683, he took the oral examination that resulted in his medical degree. 
Sloane followed that with further studies in anatomy, medicine, and botany at the University of Montpellier before returning to London in mid-1684 'with a Resolution to fix himself there for the Exercise of his Profession'. 
He was elected to the Royal Society the following year and became a fellow of the College of Physicians in 1687. An appointment as personal physician to the second Duke of Albemarle, the recently-appointed Governor of Jamaica, took him to the West Indies. During his fifteen months in the Caribbean, Sloan visited several islands, collected a herbarium of 800 species which he catalogued in his Catalogus plantarum quae in insula Jamaica sponte proveniunt in 1696.