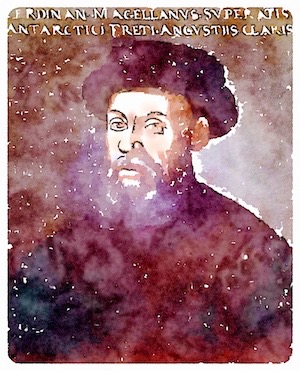 The Portuguese navigator Fernão de Magalhães (Ferdinand Magellan in English; Hernan de Magallanes in Spanish) (1480? –1521) commanded the first expedition to circumnavigate the world. 
Although Magellan did not survive to complete the voyage, he may have virtually circumnavigated the globe before his death since he may have gone beyond the longitude of the Philippines in the course of his service for the Portuguese crown. 
Magellan had been a well-rewarded servant of Portugal's John II but was strongly disliked by his successor, Manuel the Fortunate. Manuel may have had sponsored da Gama's mission, but he wanted no part of anything Magellan had to offer. The two had clashed while Magellan was a page to the court. Magellan's temper had reputedly been an issue. 
Manuel's reluctance to reward him for services rendered to the Portuguese crown persuaded Magellan to give up his nationality and offer his services to Spain in 1517. His desire for revenge against Manuel led him to seek a westward passage to the Spice Islands, without touching Portuguese territory. In doing that there was also a possibility of proving that the lucrative Spice Islands lay in the Spanish hemisphere, as defined under the Treaty of Tordesillas.
Magellan crossed the Pacific with great hardship in a voyage of three months, and twenty days and died in the Philippines on 27 April 1521. The journey showed up the error in Ptolemy's estimate of the size of Asia, established a basis for future measurements of the earth, defined blank spots for later explorers to fill in and proved that by sailing west from Europe one could find a route to the Spice Islands. 
Although he did not survive the journey, his belief in his goal, his perseverance in seeking it, and his strength of will set up the circumnavigation of the world.