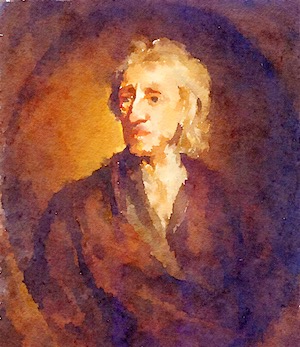 English philosopher and physician John Locke (1632–1704), the elder of Somerset attorney John Locke's (1606–1661) two sons, benefited from his father's service as a captain of cavalry in the Parliamentarian forces during the English Civil War. 
His father's former commander Alexander Popham, MP for Bath, recommended the son for a place at Westminster School in 1647, where his fellow pupils included the scientist Robert Hooke, architect Christopher Wren and poet John Dryden. Locke was made a king's scholar in 1650 and elected to a studentship at Christ Church that was broadly equivalent to a fellowship in one of Oxford's other colleges, two years later.
Locke took care to fulfil the requirements for his degrees (BA, February 1656; MA, June 1658) but seems to have spent much of his time reading lighter literature, much of it translated from French.
By the late 1650s, he was displaying something more than a casual interest in medicine and was almost certainly investigating it as a career option.
By May 1660 he had made the acquaintance of Robert Boyle, who probably introduced him to philosophy, and after toying with the notion of becoming a clergyman, took up a succession of teaching posts at Christ Church as he continued reading widely in medicine and natural philosophy.
Towards the end of 1665, he spent three months as secretary to Sir Walter Vane's embassy to the elector of Brandenburg before returning to Oxford and studies in chemistry and medicine, with a particular interest in the physiology of respiration.
A chance meeting with Anthony Ashley Cooper, then Lord Ashley and subsequently the first Earl of Shaftesbury, who came to Oxford to visit his son in the summer of 1666 prompted a change in Locke's career path. By the time Ashley left Oxford the beginnings of an enduring friendship were in place. At the beginning of April 1667, Locke left Oxford, travelled to London via Somerset, arriving in early May and joined the household at Ashley's London residence, Exeter House as his new patron's physician.
Ashley's son had now left Oxford, and Locke seems to have also acted as his tutor. Having been intimately involved in the negotiations that preceded his charge's marriage to the Earl of Rutland's daughter in September 1669 Locke was later given the task of overseeing the schooling of their son, the future third Earl of Shaftesbury.
Meanwhile, Locke continued to read extensively in medicine and supplemented what had been a theoretical education with clinical experience with Thomas Sydenham. Locke accompanied Sydenham on his rounds and kept records of his methods of treatment. Sydenham had a significant effect on Locke's thinking that became evident in An Essay Concerning Human Understanding.
Locke's increasing medical knowledge may or may not have contributed to a successful operation to drain an abscess on Ashley's liver that had become life-threatening in the summer of 1668, but he coordinated the advice of several other physicians and Ashley credited Locke with saving his life.
While Locke continued to pursue his scientific interests after he was elected a fellow of the Royal Society in 1668, he seems to have attended few meetings and contributed little to the Society's work.
Locke's hitherto rather academic interest in politics was modified by his experience in the household of one of England's leading politicians. Within a year of his move to London, he had written an Essay Concerning Toleration, which was not published until 1876 but survives in four manuscript copies that presumably circulated among Ashley's circles. At the same time he developed an interest in economic questions, and in 1669 became involved in the drafting of an elaborate set of laws that formed the 'fundamental constitution' of a new colony in Carolina. He was not the sole author, but had a hand in the original draft, and was undoubtedly involved in alterations. Locke served as secretary to the Lords Proprietor of Carolina until 1675, taking minutes at meetings and handling much of the correspondence with the colonists. He also had a financial interest in other colonial ventures, including the Bahamas Company and the Royal African Company.
Locke was appointed a registrar to the commissioners of the excise in 1670, and for the next few years spent much of his time on various administrative activities. In October 1673 Locke became Secretary of the Board of Trade and Plantations, and in December he became the council's treasurer as well. He held both positions until the council was dissolved in December 1674.
However, from the beginning of 1675 Locke's position became worryingly insecure in the turmoil that surrounded the latter years of Charles II's reign. His patron was out of office and out of favour, Locke was about to lose his government positions and while he was able to return to Oxford in February and take a bachelor's degree in medicine and secure one of the two medical studentships offered by Christ Church health issues, and political prudence prompted a visit to France. 
After crossing the Channel in November seeking relief from the lung ailments that would trouble him for the rest of his life, Locke travelled to Montpelier via Paris and Lyon. An anonymous pamphlet attacking the policies adopted by Charles IIs chief minister had appeared earlier in the month, and while the authorship was never definitely established, it undoubtedly came from Shaftesbury's circle, and, more than likely from his household, making Locke a prime suspect.
In Montpelier, Locke hired a French tutor for an hour a day and began reading French philosophical writers in the vernacular, following philosophical debates from which he would otherwise have been excluded. 
Early in 1677 Locke agreed to act as tutor to Caleb Banks, a prosperous London merchant's son, travelling back to Paris via Toulouse and Bordeaux, arriving there in early June and, apart from a short tour through provincial France in late summer and autumn 1678, remaining there until he returned to England at the end of April 1679. 
While Locke moved back into Shaftesbury's circle on his return and spent about half of the next four years at the Earl's new London residence, he was not intimately involved with Shaftesbury's affairs. 
Around this time, however, and most likely at Shaftesbury's prompting, Locke composed the bulk of his Two Treatises of Government, an argument against absolute monarchy once thought to have originated in defence of 1688's Glorious Revolution but now recognised as a much earlier argument for individual consent as the basis of political legitimacy.
When he was not in London, Locke spent lengthy spells in Oxford, where his association with Shaftesbury had made him an object of suspicion or in Buckinghamshire as a state of acute political crisis deepened and Locke was concerned with politics. 
Shaftesbury was out to divert the succession away from the Duke of York, the future James II, by forcing an Exclusion Bill through parliament. Charles II was determined to resist the assault on the monarchy through every possible avenue. In March 1681. Parliament was summoned to meet in Oxford but was dissolved within a week, and with Charles disinclined to summon another parliament, opposition figures, including Shaftesbury, began to look towards an insurrection.
Shaftesbury was arrested, charged with treason and sent to the Tower, on 2 July 1681 but could not be tried until a grand jury indicted him. Since the jury would be drawn from panels nominated by the sheriffs of London, who were strongly aligned with Shaftesbury and could be relied on to select like-minded jurors he was, more or less, safe. 
On 24 November, a Whig-nominated grand jury failed to find sufficient evidence for a prosecution to proceed and Shaftesbury was released, but when the government secured the return of two Tories as sheriffs for London in June 1682 his days were numbered. Shaftesbury went into hiding at the end of September, then fled to Amsterdam after an aborted insurrection. He died there in January 1683. 
Following Shaftesbury's death intrigues and assassination plots continued, and while Locke does not seem to have been involved, as a known adherent of Shaftesbury he had reason to believe himself to be at risk. He spent much of July and the first half of August 1683 in the west country putting his affairs in order, and then quietly slipped out of the country. By 7 September he was in Rotterdam en route to Amsterdam, where he remained for nearly a year. In August and September 1684 Locke spent six weeks travelling through the Netherlands, visiting Franeker, Groningen, Deventer, and Nijmegen. Between September 1684 and May 1685, he frequently moved between Amsterdam, Leiden, and Utrecht, maintaining contact with other English political exiles in the Netherlands. Expelled from his studentship at Christ Church in November 1684, he may have contributed financially to the Duke of Monmouth's ill-fated invasion in June and July 1685, and undoubtedly knew its paymaster, Thomas Dare. As a result, Locke's name appeared on a list of exiles sent to the States General of the United Provinces with a request for their arrest. Locke went underground and remained in hiding in Amsterdam and Cleves under a variety of aliases until May 1686. 
He moved to Rotterdam in February 1687, then accompanied William of Orange's consort Mary II on her return to England on 12 February 1689. 
His return from exile was followed by the publication, in quick succession, of the works that made Locke famous: the Two Treatises of Civil Government (1689); his Essay Concerning Human Understanding  (1690), and the three Letters Concerning Toleration (1689, 1690 and 1692); Some Considerations on the consequences of the Lowering of Interest and the Raising of the Value of Money (1691); Some Thoughts Concerning Education (1693); The Reasonableness of Christianity, as Delivered in the Scriptures and A Vindication of the Reasonableness of Christianity (both 1695).
Locke declined the offer of a diplomatic post but accepted a position as commissioner of appeals for the excise, which involved fewer duties and which brought in £200 per annum and turned his attention towards problems in economics.
An extended visit to Oates, a small moated manor house in north Essex in the summer of 1690 delivered an offer to stay permanently in the early part of 1691. Locke based himself there, though he was forced to spend long periods in London attending to government business after his appointment to the newly constituted Board of Trade, which occupied a substantial part of his time over the next four years. Discussions over the abortive Scottish colony in Darien brought him into contact with William Dampier, and the board also dealt with problems as varied as Irish linen manufacture, the suppression of piracy, the affairs of the colony of Virginia, vagrancy and the reform of the poor law. 
Locke, however, found London's cold and smoke increasingly unbearable. A summons to Kensington Palace for an interview with the king in January 1698 nearly killed him, and his long-term lung problems forced him to resign from the Board of Trade in June 1700.
Locke spent the last four years of his life living quietly at Oates, with increasingly infrequent visits to London, working quietly on philosophical projects when his health allowed. He died peacefully sitting in his study on the afternoon of 28 October 1704.
His writings first published in a collected edition in 1714, and reprinted at regular intervals, proved immensely influential through the eighteenth century, particularly in the universities of Oxford and Cambridge. They had a significant effect on the development of political philosophy and influenced Voltaire and Jean-Jacques Rousseau, Scottish Enlightenment thinkers, and the American revolutionaries. His contributions to classical republicanism and liberal theory are reflected in the American Declaration of Independence. Locke was seen as delivering a non-metaphysical account of the workings of the human mind that forms the basis of modern conceptions of identity and complemented Newton's account of the physical universe. His standing declined in the nineteenth century as he came to be seen as historically significant but rather dull and pedantic.
Sources: Chambers Biographical Dictionary, J. R. Milton, John Locke (1632–1704); The Oxford Companion to British History; Wikipedia