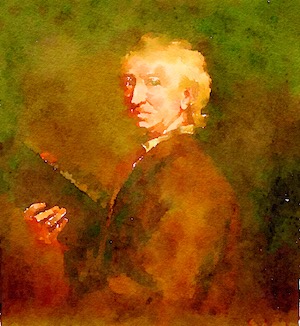 English writer, gardener and diarist John Evelyn (1620 – 1706) was born into a wealthy family of gunpowder manufacturers in Wotton, near Dorking in Surrey. He grew up in Lewes, Sussex, attended Lewes Old Grammar School and went on to Balliol College, Oxford, where he reputedly started the diary he continued to keep for the rest of his life. 
As a fervent Royalist, he served briefly in Charles I's army, arriving too late for the Royalist victory at Brentford in 1642 and then spent the rest of the Civil War years touring Europe.
After marrying Mary Browne, daughter of Sir Richard Browne the English ambassador in Paris in 1647, he returned to England and settled at Deptford. After the Restoration, he spent much time at Charles II's court and was a founder member of the Royal Society (1660). 
He served as one of four Commissioners for taking Care of Sick and Wounded Seamen and for the Care and Treatment of Prisoners of War during the Second Anglo-Dutch War (1665-67), Commissioner of the Privy Seal (1685-87), treasurer of Greenwich Hospital (1695-1703) and took an interest in the rebuilding of St Paul's Cathedral after the Great Fire of London.
As an author, he produced three dozen works covering a variety of topics from air pollution (Fumifiguim, or the Inconvenience of the Air and Smoke of London dissipated, 1661), to engraving (Sculptura, or the Art of Engraving on Copper 1662). His work on forestry (Sylva, or a Discourse of Forest-trees 1664) encouraged landowners to plant oak trees to provide timber for the Royal Navy. Other subjects included theology, numismatics, politics, gardening, architecture and vegetarianism and the first recorded book on salads.
His diary, discovered in a clothes- basket at Wotton in 1817, covering the his adult life from  his student days  to 1706 contained portraits of his contemporaries and observations on art, culture and politics, including Charles I's execution, Oliver Cromwell's rise and eventual death, and the Great Fire of London in 1666. A 700-page quarto volume covers the period until 1697, while a smaller book continues entries to within three weeks of Evelyn's death. Although the subject matter goes back to his student days, Evelyn seems to have started his diary much later, filling in the details for the early entries from almanacks and other people's accounts.
Samuel Pepys, wrote a different kind of diary over a much shorter period, 1660–1669, but in much greater depth, within the same era. 
Sources: Chambers Biographical Dictionary; The Oxford Companion to British History; Wikipedia