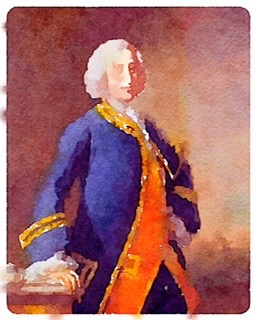 English naval officer and politician George Anson  (1697–1762), who went on to become Baron Anson and First Lord of the Admiralty, was born in Staffordshire, the second son of William Anson, a minor country gentleman.
Many eighteenth-century naval officers were younger sons of genteel or noble families, and family connections helped ensure that ability and merit were noticed. In Anson's case, the helpful connection came from his uncle Thomas Parker, who went on to become the first Earl of Macclesfield) and lord chancellor.
When Anson entered the navy in 1712, his uncle was already lord chief justice, and while his influence may have given his nephew a helping hand, Anson also demonstrated a degree of ability as he moved through the ranks. From Lieutenant (May 1716), he moved on to Commander (the sloop Weasel, June 1722) after service in the Mediterranean and the battle of Cape Passaro off Sicily.
After cruising the North Sea in the Weasel, he was promoted to command the frigate Scarborough, a station ship protecting trade and suppressing piracy in South Carolina, in 1724. Two stints on this station (1724 to 1730 and 1732 to 1735) left him plenty of time to move in colonial society and invest in local property. 
In December 1737 he was sent to protect British interests in West Africa in the 60-gun fourth-rate HMS Centurion on a deployment that also took in the West Indies.