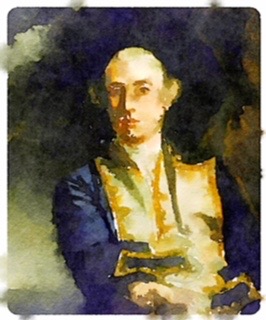 British naval officer Vice-Admiral John Byron (1723 – 1786), second son of William Byron, fourth Baron Byron, a.k.a. 'Foulweather Jack' due to frequent encounters with severe weather while he was at sea, was the grandfather of the noted poet Lord Byron. 
After joining the Royal Navy in 1731, he served in the 54-gun fourth rate Romney before a 1740 appointment as a midshipman aboard the storeship HMS Wager, one of the squadron of six warships and two transports that Anson took into the Pacific. 
His adventures after being shipwrecked on the coast of Chile in 1741 helped inspire his grandson's Don Juan.
The Wager's Captain, Dandy Kidd, had died before the ship reached Cape Horn, with Lieutenant David Cheap promoted to acting captain. As the squadron rounded Cape Horn in terrible weather, the vessels scattered and the Wager turned north before she had sailed far enough to the west to clear the land.
On 14 May 1741, the ship entered a large, uncharted bay and was in no condition to work her way back out to sea. Acting Captain Cheap dislocated his shoulder when he fell down the quarterdeck ladder and was confined below deck. 
Early the following morning, the disabled ship struck rocks, broke her tiller, and while remaining afloat took in enough water to drown those below deck who were too ill to get out of their hammocks.