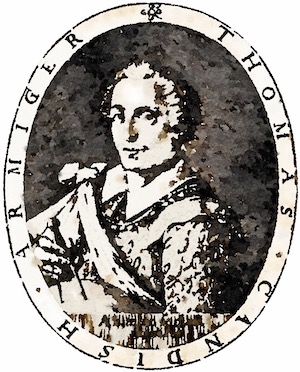 English explorer and privateer Thomas Cavendish (1560– 1592) was born into an influential family related to the Dukes of Devonshire and Newcastle at Trimley St Martin, near Ipswich.
He was twelve when his father, William Cavendish, died, and inherited his father's substantial estate, which, under the terms of William's will should have ensured ensure a university education. 
Thomas subsequently entered Corpus Christi College, Cambridge, at Easter 1576, but left in November 1577 without graduating and spent most of the next eight years or so in luxurious living. 
Between 1581 and 1583 Cavendish was taken to court for non-payment of debts, and, while his reputation as a spendthrift grew so did his status at the royal court, thanks to Walter Ralegh's patronage. 
Through Ralegh, Cavendish secured a seat in Parliament as the member for the borough of Shaftesbury in Dorset in 1584, and he was tutored in the theory and practice of navigation at Ralegh's Durham House in Westminster by Thomas Harriot,
In Parliament, Cavendish supported Ralegh's application to take over Sir Humphrey Gilbert's patent to colonise America, and despite his lack of maritime or military experience, was appointed high marshal of the Virginia expedition of 1585 as Richard Grenville's second in command. He sailed from Plymouth in the pinnace Elizabeth on 9 April 1585, bound for Virginia. A ferocious storm scattered Grenville's fleet, and Cavendish was the only one of the expedition's principals to join Grenville at the Puerto Rican rendezvous. Given his relative lack of experience, this achievement proved Harriot's training had been effective and marked his down as a future candidate for naval command.
From there, the remaining members of the expedition made their way to Virginia and established a colony at Roanoke. Cavendish and Grenville returned to England on the Tyger, and while Grenville picked up a rich Spanish prize along the way, Cavendish entered Falmouth having acquired several close friends and much valuable maritime experience but losing the capital he had invested.
On his return, Cavendish seems to have collaborated with George Clifford, Earl of Cumberland, in a venture to send out two ships to pass through the Straits of Magellan to Peru in 1586. That venture only managed to reach 44° S and returned with little to show after robbing and burning of villages in Sierra Leone and some scrappy fighting in Brazil. While his captains achieved little, off the Plate they captured Lopez Vaz, a Portuguese who supplied detail used in Richard Hakluyt's Divers Voyages Touching the Discoverie of America (1582) and The Principal Navigations, Voiages, Traffiques and Discoueries of the English Nation (1589–1600).
In 1586 he was the member of Parliament for Wilton as he set about planning and preparing his next venture, raiding Spanish shipping and ports in the Pacific and circumnavigating the globe. Queen Elizabeth sanctioned the venture and Cavendish ordered two new ships: Desire, a 120-ton 18-gun galleon, and the pinnace Hugh Gallant, or Galliot.  The 60 ton, 10-gun Content joined him, The fleet was commissioned on 23 May 1586, with Cavendish paying a £2000 bond to ensure that Desire only attacked Spanish shipping. Cavendish left London on 10 June, loaded provisions at Harwich, reached  Plymouth on 27 June and set out on 21 July with his three ships and 123 men, planning to follow Drake's course through the Strait of Magellan, north to California, across the Pacific to the Moluccas, and home via the Cape of Good Hope. 
However, it was not all about pillage and plunder. Cavendish also hoped to renew Drake's contacts in the Far East, explore South America's southern coasts for potential sites for English colonies and to break the Spanish monopoly by opening an English trade with China and Japan.
After reprovisioning at Sierra Leone, Cavendish went on to Brazil, stopped for a refit and built a stowable pinnace and reached Port Desire in mid-December, sailing again on the 28th. 
During their stay at Port Desire Cavendish provided one of the sources of the enduring legend of Patagonian giants. When he 'took the measure of' one of the locals' feet, it was found to be eighteen inches long. The measurement, however, was probably the length of the skin shoe, rather than the foot inside it.
Cavendish had timed things well. Sailing at the height of the southern summer, he managed to avoid wintering in Patagonia, which led to dissension and mutiny on earlier voyages. By 6 January 1587 Desire and Content had entered the Strait of Magellan. Ahead of them, Hugh Gallant had sustained storm damage before she entered the strait. 
Midway through the passage, Cavendish picked up a Spaniard, Tomé Hernandez at Ciudad del Rey Don Felipe, the settlement on the north shore of the Strait founded by Pedro Sarmiento de Gamboa in 1584 to block the Strait to would be raiders bound for the Pacific coast. 
When Cavendish arrived there, the harsh conditions had reduced the original population of three hundred settlers to twelve men, and three women and the settlement was in ruins.  Cavendish renamed the place Port Famine, and the name was subsequently translated into Spanish as Puerto del Hambre.
Although he had promised to take off the other survivors, when Cavendish returned to the Desire, favourable sailing conditions saw him move on without delay.
He rounded and named the southernmost point of the South American mainland Cape Froward (53.9°S 71.3°W), but beyond it 'most vile and filthie weather' held him up for a month. On 24 February he passed into the South Sea after fifty days in the Strait. The passage took Magellan's thirty-eight days and Drake sixteen.
Running up the coast of South America, on 15 March Cavendish's two ships reunited with the Hugh Gallant off Mocha Island, north of Valdivia, where they also had a brush with the local Araucanians who took them for Spaniards. 
Things were slightly different further north at Isla Sta Santa Maria, where the Indians were very friendly, but that was after they had been 'made merie with wine'. Cavendish's squadron remained unmolested up to Quintero Bay, just north of Valparaíso at the end of March. Knowing that he was close to Spanish settlements, Tomé Hernandez made his escape. Two days later, he was back with two hundred horsemen, catching a shore party foraging for food supplies. A brief encounter resulted in a dozen English deaths, including the Gallant's master, Hugh Blackenals, and others captured. 
Cavendish responded devastatingly, sinking or capturing Spanish ships and looting settlements for fresh food, maritime supplies and treasure.
On 23-25 April they took a large ship and two barks in Arica roads, but the place was too well defended to risk landing a shore party to do further damage.
Two days later, Cavendish captured a bark with a useful Greek pilot, but a raid near Pisco produced nothing but some provisions. A 300-ton ship yielded nothing better, but the best return came when they intercepted two Spanish vessels illicitly trading between the Plate and Peru. They were carrying merchandise that could have fetched £20,000 in 'in England or in any other place in Christendome where we might have sold it.' Instead, they were looted and burnt. 
Paita paid the price for being the only safe anchorage on this stretch of the coast when it was sacked and burnt.
By  5 June Cavendish's three ships, plus a prize, were at Puná, off the coast of southern Ecuador 3 degrees south of the equator. The Indian lord of the island had fled with his 'marvellous faire' Spanish wife and 100,000 crowns but behind his gorgeous house a storehouse contained supplies of pitch and fibre for cables, ships tackling and iron gear. 
While there was some fighting, with nine of Cavendish's men killed and three taken prisoner, they claimed to have killed fifty Spaniards and Indians then burned the town's three hundred houses as well as four ships on the stocks.
They then careened the larger vessels, burned the Hugh Gallant so her crew could replace those lost on the other ships, and set course for New Spain, making landfall in Costa Rica on 1 July.
They took and burned another two ships off El Salvador, but while, once again, there was although there was nothing aboard in the way of treasure or small-bulk goods of value, there was a French pilot, Michael Sancius (Miguel Sanchez).
Sanchez does not appear to have been over-enamoured of his Spanish employers since he revealed a Manila galleon was due in October or November.
More than that, he pointed out that the galleon usually called at Cape San Lucas in Baja California, a location that appeared on Spanish charts as la aguada segura (the sure water supply) to replenish their water supply before proceeding to Acapulco.
However, that was still some time away. In the meantime, Huatulco in modern-day Oaxaca State was sacked, The customary church-burning saw, according to local tradition, the miraculous preservation of a much venerated Holy Cross which was removed to the cathedral in Oaxaca City. 
Cavendish bypassed Acapulco, touched at a number of small ports and bays to the north of the port and put in at Mazatlan at the mouth of the Gulf of California, to careen the ships and made general repairs. He then sailed for Cape San Lucas on the Baja Peninsula, where he meant to lie in wait for the galleon, on 14 October.
There were, in fact, two inbound galleons that year. One, the Santa Ana, the official trade galleon for 1587, had left Manila's port of Cavite in the last week of June. 
The other, Nuestra Señora de Buena Esperanza, left Macao two weeks later, but starting from a higher latitude and with a clear run in open waters made landfall off California first, at a time when fog covered the coast and had slipped past Cavendish undetected.
Early on the morning of 4 November 1587 one of Cavendish's lookouts spotted the 600-ton Santa Ana. While it took the English ships several hours to chase down their target, and several hours to subdue the vessel it was a one-sided affair.  The Santa Ana's cannons had been left in Manila to allow the ship to carry additional cargo. 
Over the next five or six hours, Cavendish used his cannon to fire ball and grapeshot into the Santa Ana while the Spaniards tried to fight back, though they were never going to fight off with two handy ships carrying twenty-eight cannons with small arms. After a stiff fight the Spaniards, on a ship that was starting to sink, finally surrendered.
Cavendish and his crews offloaded all the gold the galleon was carrying (122,000 pesos, about £70,000), picked the eyes out of a cargo of silks, damasks, musks, spices, wine and food supplies that had cost a million pesos in Manila, and would have been worth twice that landed in New Spain. The rest would be burnt with the ship, but ample remained.
Cavendish carried off those of the prisoners he thought might prove useful in the future: two Japanese and three Filipino boys, a Portuguese 'Old China Hand', and an experienced pilot who knew the Ladrones and Philippines
He then set the rest of the one hundred and ninety Spaniards and Filipino crewmen ashore with food and weapons, set the Santa Ana alight and sailed away on 17 November to begin their crossing of the Pacific.
The Santa Ana, still burning, drifted onto the coast where the marooned Spanish survivors extinguished the flames, re-floated the ship and eventually limped into Acapulco.
Quarrels over their respective shares of the spoil saw the two vessels separate shortly afterwards. The Content was never heard from again and is generally presumed to have perished in a storm. 
The Desire, on the other hand, having picked up useful charts and the Santa Ana's Spanish pilot made one of the fastest crossings of the Pacific at that time and arrived at Guam on 3 January 1588. After trading iron tools for fresh supplies, water and wood, Cavendish moved on to the Philippines, and passing through the San Bernardino Straits between Luzon and Samar on the 14th, then attacked Arevalo, a Spanish settlement in the Western Visayas. 
He spent a fortnight exploring the southern Philippines, cruising unchallenged among the islands, promising disaffected locals support against their Spanish overlords.
The only setback came when he attempted to seize a galleon under construction on Panay, but the local Spaniards managed to beat him off.
Before leaving the Philippines, he left a letter for the Spanish authorities advising them to stockpile gold, so there would be plenty waiting for him when he returned in a few years' time. As he departed, Bishop Salazar of Manila was bewailing the way in which 'this barbarian infidel', 'a mere youth in a wretched little ship should sail gaily and boastfully . . . from our midst laughing, without anyone molesting or troubling him.'
Cavendish may or may not have moved on to the Chinese coast, but somewhere along the line, he captured a Chinese junk with a Portuguese merchant aboard. The merchant may have been the source for the 'Great Map of China' Cavendish carried to England, where someone deduced that China's armed forces numbered 7,923,795 horsemen and foot soldiers, but the document subsequently disappeared.
In any case, Cavendish was out to gather information about the coasts of China and Japan that could be used a possible second voyage, but with his crew now down to forty-eight it was in his own best interest to avoid conflict for the rest of the voyage.
On 8 February Cavendish was off Gilolo (Halmahera) but did not bother to call into the Spice Islands, possibly because his handful of crewmen were already displaying symptoms of the sickness that broke out a few days later or, more likely, because there was no room for any more cargo aboard the Desire.
He stopped instead in southeastern Java, where he traded captured linen and other goods for fresh supplies, water and wood, as his crew replaced worn out clothing and bedding with luxurious damask. Cavendish also cultivated friendly relations with the local raja and with two Portuguese, who expressed concern about the fate of Dom Antonio, the exiled claimant to the Portuguese throne. According to reports from Spain, Dom Antonio was dead, but Cavendish assured his questioners that  Dom Antonio was alive, safely exiled in England and that the Desire had gone to the South Sea to fight the Spaniards who had overthrown him, on Dom Antonio's behalf. For their part, though his new friends were, allegedly, enthusiastic about Dom Antonio coming east to rule over the Moluccas, Macao, and the Philippines they still reported their encounter with Cavendish to the official (Spanish-aligned) Portuguese authorities in Malacca.
However, having laid foundations of a sort for future projects, Cavendish sailed for home on 14 May, Travelling via the Cape. After a stop at St Helena, he was a week out from Plymouth when a passing Flemish ship told him of the recent defeat of the Spanish Armada. 
After encountering a  ferocious storm off the Lizard that almost wrecked the Desire,  she limped into Plymouth quietly, on 9 September. The circumnavigation had been completed in two years and forty-nine days, nine months faster than Drake.
While the defeat of the Armada was always going to overshadow Cavendish's achievements, the Desire went on to parade up the River Thames displaying new sails of blue damask.
Cavendish banqueted Elizabeth aboard the Desire at Greenwich in November, and though ballads were written in his honour, his reprise of Drake's circumnavigation did not extend to the knighthood mistakenly credited to him by later writers. 
Apart from its financial success (the booty from the Santa Ana, though much exaggerated by rumour, was probably around two-fifths of the Crown's yearly revenue), the voyage was very profitable from an intelligence point of view.
In the East Indies Cavendish had been as much concerned with gathering information as with plunder or spices. 
The Desire's master, Thomas Fuller, had detailed sailing directions for the whole voyage and Cavendish had his aforementioned great map of China, so he was probably in a position where he could justifiably congratulate himself on a promising reconnaissance on top of a profitable voyage. He undoubtedly looked forward to a significant exploitation of information gained on a second voyage.
While Cavendish was back in Parliament as the member for Wilton in October 1585, his reputation as a spendthrift resurfaced, revived by an extravagant portrait commission and his generosity to his crew, to the detriment investors like Sir Julius Caesar (a.k.a. Julius Adelmare), who held significant judicial positions that related directly to maritime matters and piracy.  As a result, Cavendish ran into on-going legal difficulties. The judge was probably behind the impounding of Desire in the Thames until December 1589, accusations of piracy against her pilot Thomas Fuller, and the forfeiture of Cavendish's £2000 good-behaviour bond. 
That last item would have been particularly galling since Cavendish himself did not make a great deal out of his voyage. After paying customs dues, repaying creditors, rewarding his crew, and redeeming lands mortgaged to finance the first voyage, he had gone on to refurbish the Desire, buy the 240 ton Roebuck in Plymouth, and sit for a costly portrait, so there was not a great deal left.
There is no doubt that he was eager to return to the Far East, and Cavendish had bought the galleon Dudley to use on a second voyage. Permission, however, was not forthcoming, so in February 1590 Dudley and Roebuck were commissioned as privateers. Cavendish's cousin John Cock and friend John Clerke fronted the  £2000 anti-piracy bonds. However, after the Dudley sank a disguised English ship in a Dutch convoy off Portugal in March and the Roebuck captured other vessels, Cavendish and his partners were charged with piracy, forced to pay restitution, and forfeited the bonds. 
As a privateer Cavendish did better out of the purchase of the pinnace Discharge, which was involved in the capture of the rich Venetian argosy Uggera Salvagina.
Permission for another venture to the East arrived in 1591, but his diminished reputation saw potential backers shy away from investing in a more ambitious project than the first voyage.
This time, Cavendish was taking a fleet of five: the flagship Galleon Leicester, his old Desire refitted, the 240-ton 20-gun Roebuck of 240 tons, and two smaller vessels (The Black Pinnace, and a small bark, the Daintie), a total of at least 80 guns and some three hundred and fifty men.
The capital-raising difficulty Cavendish was experiencing meant he was forced to enlist the Arctic explorer John Davis, regarded by many as the country's most celebrated navigator of the day, who joined Cavendish against his friends' advice. 
Davis came aboard after an agreement to split the expedition once they reached the Pacific. The expedition would divide when they reached California. At that point, Davis would take The Black Pinnace and the Daintie in search of the north-west passage.
For his part, after the routine plunder of Chile and Peru, Cavendish seems to have been out to develop an English galleon trade with China and possibly Japan, the equivalent of the highly lucrative Manila Galleon trade. His two young Japanese and his Portuguese China expert would be useful intermediaries.
Cavendish also had on board Thomas Lodge, one of the 'University Wits', who claimed to have written his romance Margarite of America as they attempted to battle through the Straits of Magellan.
Significant problems arose before the expedition departed. In April Thomas Andrewes, a circumnavigation veteran who was overseeing the fitting out of the expedition's ships in the Thames was imprisoned after the accidental death of a cooper. Cavendish lost £1500 to absconding sailors and replacing them delayed his departure until 26 August 1591. 
This late start meant, unlike the first voyage they would have to winter in Patagonia before attempting the Straits of Magellan, but Cavendish decided to sail directly to Brazil, without stopping to replenish supplies at Sierra Leone. That resulted in the first of a series of on-going setbacks. When the expedition was becalmed for twenty-seven days in the Doldrums, food shortages, fever and scurvy affected the crews, and discontent started to mount.
Cavendish intended to begin by taking Santos in Brazil, and while they were becalmed, the two Japanese alleged that the Portuguese pilot was plotting desertions when they got there. Cavendish had had the pilot hanged. 
The planned capture the Brazilian port of Santos proved to be the expedition's turning point. 
Davis's ship the Daintie was sent in to reconnoitre, disguised as a trader. The guise obviously worked, since she returned with a cargo of sugar, requesting permission to return home.
Santos was duly taken on 16 December with the population rounded up while they were at Mass. The food supplies that Cavendish planned to avail himself of were, however, quietly spirited away by the inhabitants. 
The Daintie's cargo of sugar was worthless unless it could be sold, so she was released and Cavendish's men set about building a replacement vessel. 
They did not sail again until 24 January 1592, far too late in the season to attempt the Straits, but their troubles began well before they reached Port Desire. A storm scattered the fleet off the River Plate, 
One ship (the newly-built Crow) was lost, two more (Leicester and Roebuck) collided, losing ship's boats and leaving Leicester shipping water with her crew without a change of clothing. The weakened Roebuck and the Desire headed to Port Desire, where they were joined by Cavendish on the Leicester, with an increasingly disenchanted crew and The Black Pinnace on 16 March. So they were already in autumn, and morale was low amongst what Cavendish called 'the most abiect & mutanus Companye that ever was Caried out of Englande by anye man livinge'. (The English reprise: Fenton and Cavendish. http://press-files.anu.edu.au/downloads/press/p66561/mobile/ch10s05.html)
Still, for some reason, Cavendish decided to press on into the Straits.
Disenchantment grew when the ships entered the Strait of Magellan in mid-April. With winter on the way, they encountered blizzards and hard frosts, weather' not durable for Christians'. In late April they were forced to shelter a few miles on the other side of Cape Froward, reduced to a diet of shellfish, cinnamon bark and seaweed.
On the Leicester, forty men died in a week, and seventy more were ill, and there were less than fifty fit to work the ship and scavenging for supplies was increasingly difficult
Given the circumstances, Cavendish decided to announce that he would turn back and reach the East Indies via the Cape of Good Hope, which raised another set of issues. Neither Port Desire nor the nearby Port St Julien could shelter the larger ships from the winter storms, so Cavendish agreed to continue to Brazil to recuperate.
Violent storms continued as they made their way back and on the night of 20 May, not far from Port Desire, Davis in the Desire with The Black Pinnace, parted company with the larger vessels. While Cavendish had failed to appoint a rendezvous in case of such circumstances, Port Desire was a logical candidate, and that is where the Desire and The Black Pinnace headed.
Inexplicably, although he must have at least suspected that the missing ships would head for Port Desire, he did not attempt to verify if that was where they were. All he did was to denounce Davis ('that villaigne that hath bynn the death of mee') and continue on his northward track in search of supplies. 
So he made his way up the Brazilian coast. An attempt to raid San Vincente, north of Buenos Aires, saw Cavendish's men routed by settlers, another raid at Santos yielded a little food and an attempt to capture two ships moored at Espirito Santo was also beaten off. By this point, Cavendish was planning – secretly, for fear of mutiny – to strip and destroy the Roebuck, refurbish the Leicester and pretend to make for St Helena. There, they would supposedly be able to prey on homeward-bound Portuguese carracks, but Cavendish's real intention was to slip back to the Straits. 
However, around the time of the second of three fights with the Portuguese he lost twenty-five men out of eighty committed, word of his plans leaked out, and the Roebuck's master reacted by heading back to England. 
Portuguese settlers and natives attacked Cavendish when he began repairs on the Leicester at San Sebastian, forcing him to sail before the refit was complete. What happened next is unclear. Thanks to inadequate supplies there was no question of returning to the Straits, Brazil was becoming an increasingly dangerous neighbourhood, and although the near-mutinous crew were disinclined to consider Ascension Island or St Helena as temporary refuges, Cavendish made for St Helena, missed it, and was then compelled him to go on northwards for Ascension. 
At this point, it seems that Cavendish was almost suicidal, and was preparing to die. He dictated his will and wrote to his executor, Tristram Gorges, blaming everyone but himself for the situation they found themselves, in, with a vitriolic attack on John Davis, the "villain" who caused the "decay of the whole action" and expressing an intention to 'my vnfortunate lief' at Ascension.
.But they never made landfall there. A few days later, Cavendish died of unknown causes—according to legend from a broken heart, but suicide, or perhaps natural causes, is more likely—in May or June 1592.
Leicester reached Plymouth in March 1593. 
John Davis, for his part, having refitted the Desire, made three more attempts at the Straits between 7 August and 10 October, may have discovered the Falkland Islands, and returned home with sixteen survivors, only five of whom were fit to work the ship.
Cavendish's will sparked off a family row, his mother spent the rest of her life unsuccessfully attempting to recover £2000 her son had owed her since 1589, and there were further challenges from a group of sailors deprived of their customary rewards, and John Chambers, Cavendish's cook, who claimed he was owed four years' wages.
Historians have tended to overlook Cavendish or to skip past him, and it is not hard to see why. On the surface, one could see his successful circumnavigation as a fortunate carbon copy of Drake's, but that judgement would ignore his planning before they departed, the navigation skills he displayed along the way and his attempts to establish trade around the River Plate and in the Far East.
While his second voyage ranks as an almost unmitigated disaster, much of the explanation lies in the delayed departure and failure to take on provisions in West Africa that went on to create an environment where collapse was virtually inevitable.
Sources: John Cannon (ed) The Oxford Companion to British History; Chambers Biographical Dictionary; Miriam Estensen, Terra Australis Incognita: The Spanish Quest for the mysterious Great South Land; Susan M. Maxwell, Thomas Cavendish (bap. 1560, d. 1592); O.H.K. Spate, The Pacific Since Magellan, Volume I: The Spanish Lake; Wikipedia