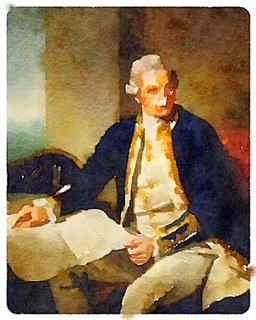 British explorer, navigator and cartographer James Cook (1728-1779) made three valuable voyages of exploration to the Pacific Ocean. 
His accounts of his discoveries, together with his accurate charts and detailed surveys, filled significant gaps in the geographic knowledge of his time. It was mainly because of his efforts that Britain gained so much Australasian territory.
The son of a Scottish labourer,  Cook was born in at Marton-in-Cleveland, Yorkshire,, and attended the village school. After five years' schooling, he began work in 1741, first for his father, then, in 1745 as a shop boy in a grocer and haberdasher's shop in the fishing village of Staithes. 
Shop work, however, did not suit him and after a year and a half, he switched to a more enticing three-year apprenticeship with John Walker, a Whitby ship-owner who worked in the coal trade along the English coast. Cook spent several years aboard colliers and various other coastal vessels, sailing between the Tyne and London. 
As part of his apprenticeship, Cook studied astronomy, mathematics and navigation, and after passing his examinations in 1752, he began working in the Baltic trade, progressing through the merchant navy ranks, to a position as mate aboard the collier brig Friendship. In 1755, he was offered command of the vessel but instead volunteered for the Royal Navy. In the conventional accounts of Cook's early career, the usual explanation for the change is that his career would advance more rapidly in the service.
In the introductory sections of his 1893 edition of Cook's Endeavour Journal, on the other hand, Captain W.J.L. Wharton has Cook, aged twenty-seven "and mate of a vessel then in the Thames,. . .  to avoid the press, then active on account of the outbreak of the war with France, volunteered on board H.M.S. Eagle, of 60 guns, as an able seaman."