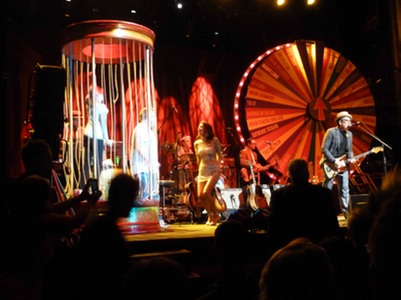 Alison sort of morphed into I Hope which was followed by a rapid fire I Can't Stand Up For Falling Down, High Fidelity, Oliver's Army and Watching The Detectives, all apparently spur of the moment decisions.
Spin Eight came up with the Time Jackpot again, so we got Beyond Belief and (I Don't Want to Go to) Chelsea to wind up the main set.
With the crowd already on their feet, as they had been for a good twenty-something minutes, so when Elvis and Steve appeared to begin what the published setlist labels the Finale, he kicked off with what he labelled the Joanna Jackpot, which gave Steve the excuse to do a little ivory-tinkling on She, followed by Everyday I Write The Book
and Napoleon's Spin, which turned out to be Accidents Will Happen. Wind things up with Man Out Of Time (Spin Eight honoured) and Peace, Love and Understanding and there you have it, in all its semi-random glory.
As I remarked to The Pope of Pop over a chilled article in The Marble Bar afterwards, a five track Finale was a bit different from the repeat one encore after another that EC usually seems to favour (two encores, ten songs here), but a hard rocking half hour before the encore break meant that we were never going to get more than one closing salvo.
We were back at the stage exit to catch Elvis and band on the way out, a good forty minutes after the show closed, and it was fairly obvious that the man was, not to put too fine a point on it, stuffed, which seemed to confirm the one encore's all you were ever going to get theory.
Looking back on it, you'd be hard pressed to find anything to complain about, or at least anything that might approximate a reasonable expectation, and a squiz at the setlist from the previous Friday's show in Melbourne reveals how much things can vary from night to night with this formula.
That, in turn, explains why I'm looking forward to the Return of the Wheel at some point in the future, and when it does reappear on these shores, come hell or high water, Hughesy's off to the lot, the judge's decision is final and no correspondence will be entered into.
And that, in turn, delivers a fairly clear commercial message to any promoters out there. Slot him into the right venues and you can probably turn an Elvis Costello tour into a reasonable little money spinner. Some Wheel shows interspersed between a run around the wineries, non-wheel Imposters shows in, say Hobart, Sydney and Melbourne, ship Davey Farragher and Pete Thomas back to Jack Shit territory outside Los Angeles and swing Elvis and Steve back across the country doing a duo thing and you could probably cover the expense of bringing the crew to these shores rather comfortably, and turn a tidy profit afterwards.
As far as Elvis is concerned, the whole thing, this whole range of viable commercial options verifies a justly earned reputation as a very canny operator as far as establishing a career path that allows him to make a comfortable living doing what he feels like...