Monday, 4 October 2010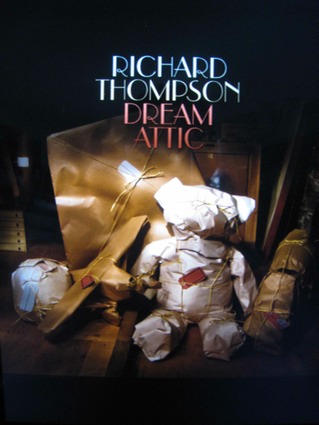 If I've taken my time getting to the latest Richard Thompson album, it's the result of starting on a new listening/writing paradigm rather than any diminution in RT fandom. Although it came out after our return from the Western Australian odyssey, the fact that I didn't get as much listening time as I'd expected meant there was a substantial listening backlog that needed to be tackled and a new RT album is always going to be something that will need a couple of listens to appreciate.
Given his cottage industry mode of operation (it's not as if he can afford to sit back and live off the proceeds of his album sales), a new RT album will usually be completely written before he starts to think about recording and, if it involves a band, solidly rehearsed before they hit the studio. The aim is invariably to complete the recording process in a manner that minimises the actual expenditure.
Another element in the Keeping Costs Down Stakes is Thompson's tendency to work with the same musicians, with variations coming because someone has other commitments when RT requires his presence. This time around it's Michael Jerome, rather than Earl Harvin, on drums, electric bassist Taras Prodaniuk rather than the acoustic Danny Thompson (no relation), RT Band multi-instrumentalist fixture Pete Zorn and electric violinist Joel Zifkin.
Rather than sitting in a studio to record Dream Attic Thompson took the band on the road for a lap around California, performing the album as the first half of a two set show and recording each night's performance. The resulting album represents the best version of each song, and the Deluxe Edition is rounded out with the same set of songs recorded as acoustic demo format. It makes for an interesting contrast.
While it's hardly likely Thompson's familiar with North Queensland-based Storm Financial, the unscrupulous financial manipulator from the opening track, The Money Shuffle, would seem eerily familiar to some of the victims of the Storm collapse as Thompson takes aim at a banker who claims to love kittens, and little babies, while he's preying on unsuspecting clients and sending financial markets into a tailspin for his own benefit.  Following the condemnation of contemporary business ethics, Among The Gorse, Among The Grey sets off for more traditional-sounding territory as Thompson describes the socialising of a joyous kid, as his elders sucked the joy/From his beating heart and invited him to the world we made for you. Make of that what you will, an attack on the education system, the commercialisation of childhood through advertising, there's nothing specific and plenty of room for the listener to reach his or her own conclusion.
You might guess the protagonist in Haul Me Up, pleading for salvation (or at least a hand) is the equivalent of that kid twenty or thirty years on. Burning Man takes us to the Black Rock Desert in Nevada, while Here Comes Geordie may or not be about a certain Gordon Sumner but whoever the subject is, like the financier in The Money Shuffle he's been firmly skewered here. Chopped down a forest just to save a tree indeed. Swinging London gets a guernsey on Demons In Her Dancing Shoes while Crimescene delivers just under seven minutes of railing against the dying of the dream, building gradually into a guitar solo that suggests the protagonist won't be going gentle into that good night.