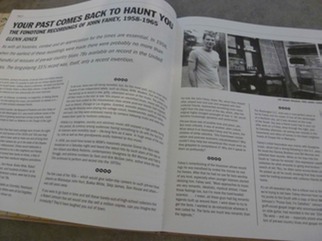 Kirton is also involved with The Fahey Files, an authoritative online archive of  Fahey's extensive discography maintained by the International Fahey Committee.
Apart from Kirton's Notes on the Recordings the book,contains co-producer Glenn Jones' Your Past Comes Back to Haunt You: The FonotoneRecordings of John Fahey, 1958-1965, which sets the scene for what follows, and his description of Nuts and Bolts of the Set. Italian researcher Claudio Guerrieri contributes The Transillumination of Blind Thomas, a guide to the hand-written labels Bussard attached to the individual hand-cut recordings, which leads into Kirton's An Orchestra in Miniature: Fahey's Guitars and His Emerging Techniques, Fahey's childhood friend R. Anthony Lee's "The Wolves are Gone Now": The Early Musical Life of John Fahey, a Byron Coley poem, Douglas Blazek's 1967 interview with Fahey, published here for the first time and Eddie Dean's In Memory of Blind Thomas of Old Takoma - John Fahey, 1939-2001 add extra dimensions to what is already a wealth of detail.
Blind Thomas, for the uninitiated, was Fahey's fictional ancient black bluesman alter ego on the sessions, the predecessor to Blind Joe Death who allegedly played a guitar made from a child's coffin and was struck blind and dumb for refusing to learn barre chords.
But, regardless of the packaging (and it's very impressive packaging) it's the musical content that counts and while there's material here that arguably justifies Fahey's less than favourable assessment of it as a whole it's a remarkable collection that shows the development of a self-taught guitarist who fused Appalachian string band music, Delta blues, Indian ragas and the hymns sung in his local church into steel-string fingerpicked tone poems.
Running through the set sequentially there are occasions where you'll be inclined to reach for the fast forward button, particularly when Blind Thomas vocalises and collaborates with a flautist, but persevere and by the final disk a dedicated fan will be in familiar Fahey territory, having had a fair chance to get a sense of the musical terrain along the way. 
Transferred from original tapes, with speed correction you're looking at a remarkable collection that's a must have for any serious student of finger-picked guitar and every long term Fahey devotee.
The set was released with the support of Joe Bussard and the John Fahey Estate, and dedicated to Fahey's mother, Jane C. Hayes and musician Jack Rose. 
Links: