Friday, 22 August 2008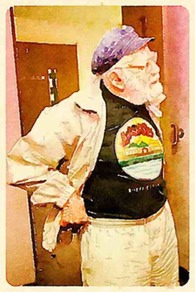 Music journalist turned record producer (10 January 1917 – 15 August 2008), one of the major record industry players in the American music industry through 1950s, 1960s and beyond.
There are subjects that, like it or not, you keep coming back to. In my case, one of those subjects is that, back in the pop culture equivalent of the days when dinosaurs roamed the earth and Tyrannosaurus Rex was master of all he surveyed, some record companies were run by music fans.
Or, if not actual fans, by people who knew a bit about music.
We're talking about those dim distant days back before the CD and the iPod. Before the music video and YouTube. Seems strange to think that's only, what, thirty? forty? years.
And, we lost another link to those halcyon days when congestive heart failure caused 91 year-old Jerry Wexler to depart this life at his Florida home on Friday 15 August.
Who, you may ask, was Jerry Wexler?
Hughesy's reply?
Where would you want me to start?