Sunday, 28 April 2013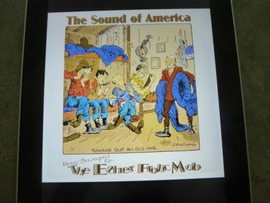 As the latest in a long line of interestingly-monikered outfits from MacGrundy's Old-Timey Wool Thumpers in 1960 down on New York's Lower East Side, through the Strict Temperance String Band of Lower Delancy Street into various incarnations of the Holy and Unholy Modal Rounders, The Ether Frolic Mob (originally Velocity Ramblers) date from around 2004, with a shifting lineup, since everyone, as Stampfel points out in the liner notes, has day jobs and/or other bands.
In a similarly lengthy line of descent Ether Frolics apparently date back to the middle of the eighteenth century, and originally referred to the recreational use of the anaesthetic gas by  well-to-do revellers and medical students, developing into entertainments where a troupe of performers fuelled their activities with the gas and invited members of the audience to join in the revelry. Such events continued into the Jazz Age, and one notes the presence of ether among the additives that fuelled Hunter S. Thompson's Fear and Loathing in Las Vegas. They were, in Stampfel's description, Sort of an old-timey acid test.
Although the twenty-first century The Ether Frolic Mob, don't indulge, that old-timey acid test is probably the right label to apply to this particular variant on the genre that has come to be known as Freak Folk. Stampfel describes the entity known as The Ether Frolic Mob as the culmination of over a half-century of thinking about my ideal of a musical group, even though the thinking, itself, will never culminate, a collection of people across a range of age groups he enjoys playing and hanging with, all of whom contribute vocally and bring a wide variety of angles and attitudes into the mix. 
The Sound of America comprises a selection of eighteen tracks out of at least twenty-five tracks cut over two days  at the Jalopy theatre in Red Hook, Brooklyn in the summer of 2011. From the opener, Great Day, a track originally recorded by Bing Crosby and the Paul Whiteman Orchestra in the early thirties, with slight modifications by Stampfel to the unlikely closer (I Will Survive, the seventies disco track reworked so it's of a piece with everything in between) we've got a collection that sits right in Old Weird/Freak Folk territory, with a prime example being the traditional Jawbone, which they hadn't planned on recording, but someone went into it, everybody joined in and it took a second take to nail it. Old Weird/Freak Folk works like that. Drunken Banjo Waltz started its existence as an instrumental, needed a title, and once that arrived the words didn't take that much longer.
The four volumes of Harry Smith's Anthology of American Folk Music are a prime source for OWFF, and a prime link to what Greil Marcus has termed the Old Weird America, so it's no surprise to see some of the contents turn up hereabouts, including Train on the Island, which gets a bit of padding with verses borrowed from elsewhere and a couple made up by Stampfel. Charlie Patton's Shake It Break it doesn't turn up in the Anthology, but it does here, a good timey slice of raunchy ruckus, and Wild Wagoner, the second selection from the Anthology, gets a slower treatment than the original because Stampfel can't play fiddle that fast and, anyway, he prefers 'em done slower so you can appreciate the melody. Last Chance started off  as a Hobart Smith instrumental, though Stampfel decided it needed some words, and duly provided same.