Wednesday, 18 July 2012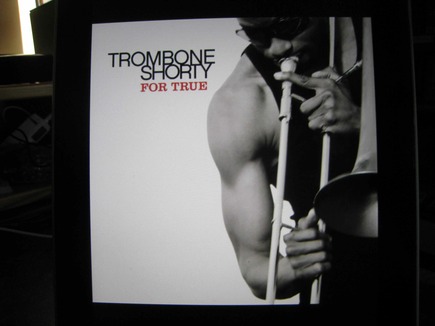 There's a school of thought suggesting the devastation wrought by Hurricane Katrina is going to be followed by an equally destructive reworking of New Orleans' musical traditions, and you'd probably have every reason to believe that, yes, with the forced removal and relocation of so many previously tight-knit communities things aren't going to be the same in the future.
Here, on the other hand, we've got a reminder that while you might take the kid out of New orleans you won't necessarily be able to get the New Orleans out of the kid. At the ripe old age of twenty-six Troy Andrews (a.k.a. Trombone Shorty) is coming off two decades of involvement with New Orleans jazz and funk. When the influences are in that deep you don't get them out unless you're willing to consider major surgery.
Sure, there are the rap and hip-hop elements, but you're likely to get them lurking in anything musical that's coming out of America these days. There's a rap in the middle of the latest Springsteen, and at that point I rest my case.
The real point is, however, that when outside influences things get to the Crescent City they tend to be reworked through a New Orleans sensibility. I've been listening to Heavy Sugar, and while you could look at it and label it as reasonably generic fifties and early sixties rock'n'roll and R&B there's a stylistic thread running through the hundred and fifty tracks that, basically, says N'Awlins.
These things tend to run in families, or at least they do in New Orleans. Andrews is the younger brother of trumpeter and bandleader James Andrews and the grandson of singer and songwriter Jessie Hill (the man who played drums for Professor Longhair and Huey "Piano" Smith, wrote Ooh Poo Pah Doo, moved to California to work with Harold Battiste and Mac Rebennack and wrote songs recorded by Ike and Tina Turner, Sonny and Cher, and Willie Nelson).
Hill's grandson grew up in Tremé, started playing trombone at age six, attended the New Orleans Center for the Creative Arts, picked up a gig in Lenny Kravitz's horn section in 2005 and put his current pop/funk/hip-hop outfit Orleans Avenue (Pete Murano, guitar, Mike Ballard, bass, Dan Oestreicher and Tim McFatter, saxes, Joey Peebles, drums, and Dwayne "Big D" Williams, percussion) together in 2009.
2010's Backatown hit Billboard's Contemporary Jazz Chart at #1 and held that spot for nine weeks. With that under his belt, tours across the Americas, Europe and Japan and Brazil (opening spots for Jeff Beck's U.K.tour and Dave Matthews Band in the U.S.A.) and recording sessions with Galactic, Eric Clapton, Lenny Kravitz and Dr. John have started to build up an impressive musical CV.
He's managed to acquire an impressive array of friends in the process, and For True, produced by Ben Ellman from Galactic (he also filled the role for Backatown) along with Orleans Avenue, there are guest appearances from the Rebirth Brass Band, Jeff Beck, Warren Haynes, Stanton Moore, Kid Rock, Ellman, Ivan and Cyril Neville, Ledisi and Lenny Kravitz to add extra dimensions to the Trombone Shorty Supafunkrock.