Saturday, 5 January 2012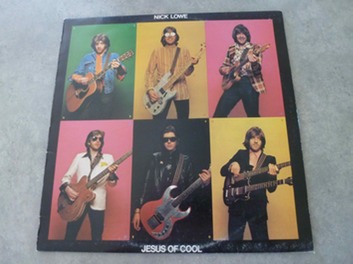 Actually, when you dig into it, the title attached to the American release (Pure Pop for Now People) probably works far better as a description of the contents of this expanded deluxe edition of British singer-songwriter Nick Lowe's first solo album.
Lowe had spent the interval since the demise of Brinsley Schwarz (the band, not the eponymous guitarist who went on to play a key part in The Rumour) turning his hand to anything that would pay the bills, working quickly in environments where extravagant budgets were never going to be part of the picture. He particularly liked using Pathway Studios in Islington, run by Mike Finesilver (who'd been associated with Love Sculpture and the Crazy World of Arthur Brown and co-wrote Fire), a chilly former garage with a distinctive smell that produced excellent recordings, including Elvis Costello's Lowe-produced My Aim Is True.
He wasn't, however, always working under his name, adopting aliases such as Tartan Horde (singles Bay City Rollers We Love You/Rollers Theme, Rollers Show/Allorolla)
and Disco Brothers (Let's Go To The Disco/Everybody Dance), and allegedly cut his Stiff Records debut single (So It Goes/Heart of the City) for less than £50in 1976. 
Recorded in  a variety of locations when Lowe was, in his own words living in the studio producing other people for Stiff and when I had an idea, we recorded it with whoever was around Jesus of Cool covers plenty of stylistic ground.
That's hardly surprising, given contributions from his later colleagues in Rockpile (Billy Bremner and Dave Edmunds on guitars, with Edmunds chpping in with vocals as well, and Terry Williams on drums), a couple of Attractions (drummer Pete Thomas and keyboard genius Steve Nieve who provides the piano on Nutted by Reality) and three-fifths of The Rumour (Andrew Bodnar on bass, drummer Steve Goulding and Bob Andrews on keyboards) and cameos from a couple of Blockheads (guitarist John Turnbull, bassist Norman Watt-Roy and drummer Charley Charles) as well as guitarist John McFee (Clover, later Doobie Brothers) and Eden Studios engineer Roger Bechirian on organ and backing vocals.
And there I was for some thirty years thinking it was all Rockpile!
The contents are pretty well flagged by the cover art and the cynical opening track, Music for Money, two minutes of Lowe taking a wry dig at record industry and the way in which commercial considerations keep pop music dumbed down. You can see that dumbing down reflected in the robotic riff, and it's difficult to avoid a conclusion that reactions to the hype and failed promises around Brinsley Schwarz's American debut are lurking in the background. It's a theme he returns to in Shake and Pop and its cousin brother They Called It Rock.
Like many of his peers on the New Wave side of the Punk Rebellion, the likes of Dave Edmunds, Elvis Costello, Ian Dury and company, we're talking blokes who've been put through the mill by commercially-minded A&R men who now find that their material that was being dissed and dismissed just a few months before is now, unexpectedly, the Next Big Thing. You won't be surprised, under those circumstances to find a hearty two finger salute directed towards the major labels.