Thursday, 6 September 2012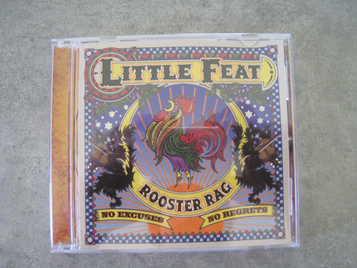 There isn't, as has frequently been remarked, a superannuation fund for working musicians and given the nature of the beast it's unlikely many of those who haven't enjoyed the heights of commercial success and subsequently managed to hang on to the proceeds are likely to have too much stashed away to fund their retirement.
Which, of course, explains why so many of the musos I've been listening to for the past forty-five years are out on the road. Given the state of the record industry at the moment you could be inclined to attach a Why bother? sticky note to any plans to record new material, but when you're on the road the merchandise table provides a vitally important income stream.
That's how I'm inclined to read the proliferation of live albums, compilations and DVD material in Little Feat's twenty-first century discography anyway.
A glance at the discography page hereabouts reveals four studio albums after 1998's Under the Radar lined up beside nine live efforts, six compilations and three DVD titles (bearing in mind the coincidence of the two versions of Rockpalast). That's a fair chunk of product to lay out alongside the T-shirts, stubby coolers, key rings and other paraphernalia on the merch table but you'll also need a collection of new material from time to time. There are, after all, only so many ways you can repackage your back catalogue.
Initial reports about Rooster Rag, which is, just so we can get the statistics out of the way early, the band's sixteenth studio outing, suggested we were in for an album of blues covers, and while the Rag kicks off with a tasty rendition of Mississippi John Hurt's 
Candy Man Blues, and concludes with a romp through Willie Dixon's Mellow Down Easy featuring the (underused, at least as far as I'm concerned) vocals of Sam Clayton, I'm glad they opted to fill the middle with new material.
Hair-splitters will, of course, question tagging the four Fred Tackett compositions here as new material, with A Church Falling Down dating back to his 2003 solo album (In a Town Like This) and One Breath at a Time, Tattooed Girl and Jamaica Will Break Your Heart making an appearance on Silver Strings around two years ago. 
The album is fleshed out with a single contribution from Paul Barrere (Just a Fever, co-written with the late Stephen Bruton) and no less than five contributions co-written by keyboard ace Bill Payne. Of those five, four are co-authored by Robert Hunter, long time lyricist for the Grateful Dead, with the final co-write giving the band's most recent recruit, drummer Gabe Ford a writing credit. 
Ford had been Richie Hayward's drum technician until lung cancer took founding member Hayward out of the mix, and the gig became permanent when Richie succumbed to pneumonia in August 2010.
As the band shuffles into Candy Man (one they've been doing live for a while, usually as a segue out of Down On The Farm) with the nudge nudge, wink wink sensibility that runs right through the band's best material, it's obvious Ford's got Richie's drum groove right down pat. That's followed by the album's title track, the first of the Payne/Hunter compositions, an exercise in jaunty Americana with good time fiddle from Larry Campbell.