Saturday, 28 July 2012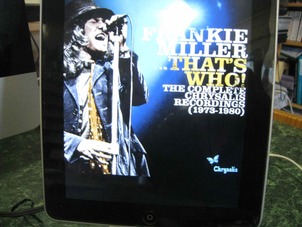 At $25.99 for 87 tracks that'd be spread over four CDs if you bought a hard copy Frankie Miller… That's Who! comes across as pretty reasonable value if you're familiar with the gravel voiced Scot's work and need to acquire a fair chunk of his back catalogue for a reasonable price.
For the majority of the population, however, it'll probably be a case of Frankie Who? unless you've got something more than vague memories of Darlin' or one of the other singles that garnered a little airplay for the bowler-hatted one back in the late seventies.
If you're unfamiliar with the man and his work something in the way of a back story might be appropriate, particularly because the four disks under review represent most of his recorded output. 
Born in Glasgow in 1949, Miller's musical tastes were shaped by his mother, a Ray Charles fan, and two older sisters who were into Little Richard and Elvis Presley. Mum and Dad chipped in for a guitar, and by the time he was nine Miller was writing songs (I Can't Change It, written when he was twelve, was recorded by Ray Charles). 
By the time he'd hit his teens he was singing professionally, and relocated to London in 1971 to work with ex-Procol Harum guitarist Robin Trower, Glasgow bandmate, bass player and vocalist James Dewar and ex-Jethro Tull drummer Clive Bunker in an outfit called Jude that attracted a fair degree of attention without producing anything in the way of a recording before breaking up in the first quarter of 1972.
That attention they'd attracted, however, was enough to secure a record deal with Chrysalis Records, and Miller cut his first album Once in a Blue Moon under the supervision of producer Dave Robinson (later head honcho of Stiff Records)  with backing from pub rock outfit Brinsley Schwarz (who, of course, included Nick Lowe as well as Brinsley Schwarz and Bob Andrews, who ended up backing Graham Parker in The Rumour, but that's a whole 'nother story.
Once in a Blue Moon didn't do so well, but did enough to have Miller jetting to New Orleans to cut his second album with Allen Toussaint, who allegedly tagged Miller as the most soulful singer he's ever heard, in 1974. High Life was allegedly remixed and released by the record label without Miller or Toussaint's consent, which accounts for the apparent duplication of some tracks on this set, which includes original mix, available on official release for the first time.
The Toussaint collaboration was, however, a one-off and for his third album Miller was off to San Francisco to work with Elliot Mazer, whose production credits include Neil Young's Harvest. Miller mightn't have been chalking up big sales but influential people were sitting up and taking notice. The Rock took its name from Alcatraz, visible from the studio window, and marked the debut of The Frankie Miller Band, which included guitarist Henry McCullough (ex-Eire Apparent, Joe Cocker's Grease Band, Spooky Tooth and Paul McCartney 's Wings), bassist Chrissie Stewart, drummer Stu Perry and Mick "Wynder K. Frog" Weaver on keyboards.
From there it was back to London to work with Chris Thomas on 1977's Full House, which produced a minor chart single in Be Good To Yourself and a cover of John Lennon's Jealous Guy. A lengthy US tour followed, and April 1978 saw Miller recording with a new band and Aerosmith producer Jack Douglas at the Record Plant in New York. The result was Double Trouble, cut with drummer BJ Wilson (Procol Harum), Chrissie Stewart on bass, Ray Russell on guitar, Chris Mercer and Martin Drover on horns and Paul Carrack on keys.