Why not use the washing machine?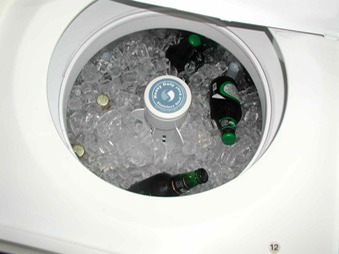 Tony's inclination when it comes to catering tends to run along the medieval baron/lord of the manor school of thought and when the party broke up we were left with vast quantities of uneaten food.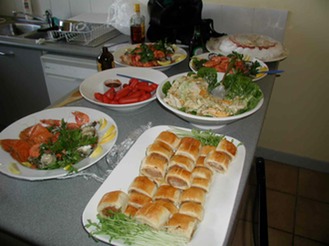 He'd gone in heavy on the Vegemite sandwiches and fairy bread for a start and no one had taken anything more than a slight nibble at either, but there were enough prawns and other crustaceans left to provide Madam, Mark from WA and I with a substantial breakfast on Monday morning.
Around three, the five-sevenths of the band who'd shown up for the barbeque were heading off for the gig, and after we'd cleared the decks we did the same, and after they'd played we more or less bid farewell and headed back to the unit. 
Tony, Katie and Marcel were planning on an overnight drive to Sydney, where the band were playing on Monday night, so they weren't inclined to hang around too long, but Mark and I ended up sitting well into the small hours chewing the fat, talking music trading and related matters over a couple of chilled articles.
Washing machines, as it turned out, are remarkably well-insulated and the ice lasted until well into Monday morning.