Thursday, 6 September 2012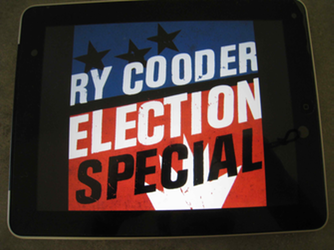 At the start of Randolph Stow's Midnite: The Story of a Wild Colonial Boy the recently orphaned protagonist is sitting outside the house, whittling sticks and forgetting to cook his supper when his Siamese cat, Khat, takes things into his own hands (or, I guess, paws) and starts talking in an attempt to get things straightened out in the tucker department. Asked to explain this unexpected development (you never talked before) he answered there was nothing to talk about.
You might think I'm stretching things a bit by suggesting a correlation between Midnite and Ry Cooder, but consider the stats. Eleven studio albums between late 1970 and 1987 with a handful of tracks that weren't covers. That situation is reversed in the batch of recordings that followed 2005's Chavez Ravine, where Ryland had to cast around a bit to find a narrative that matched the theme of a Mexican-American community demolished to make way for public housing, a project that was subverted and turned into a baseball stadium.
That was followed by My Name is Buddy's folkie exploration of Depression era issues straight out of Grapes of Wrath territory involving labour agitators, strikes, company cops and skid row hobos, I Flathead's beatniks, salt-flat hot rod racers and pedal steel-playing country musicians (the post-war children of the Depression era Okies, or at least that's the way I interpret it) and the Los Angeles Stories collection of prose about the city and the era he grew up in, covering some of the same territory.
Not bad going. Six years, three storytelling albums and a collection of prose by a bloke whose original material had landed almost exclusively on the fifteen movie soundtracks he compiled between The Long Riders in 1980 and 1998's Primary Colours.
So he could write, if he wanted to. He just needed something to write about.
There's a fairly obvious left wing social democratic mindset evident from Chavez Ravine onwards, something that shouldn't come as a surprise given the presence of Woody Guthrie's Do Re Mi and Alfred Reed's How Can a Poor Man Stand Such Times and Live on his first album forty-two years ago.
Election Special kicks off in scathing style with Mutt Romney Blues as Cooder assumes the identity of the Republican Party candidate's faithful hound, lashed to the roof of the vehicle as the family heads off on vacation (Boss Mitt Romney went for a ride/Pulled up on the highway side/Tied me down up on the roof/Boss I hollered woof woof woof), and follows it with a visit to the crossroads in Brother Is Gone, where oil tycoon Charles Koch and his brother David make a deal with the Devil, chasing political power and riches rather than musical prowess and fame. In this version, Robert Johnson's crossroads have been shifted to Wichita, the brothers lay waste to the land and its people, but Satan turns up looking for the payment for his side of the bargain. 
The Wall Street Part of Town dates back to the Pull Up Some Dust sessions but didn't make the cut for that album. It's a natural fit for the more pointedly political material this time around and while topical material attending a political agenda can get old pretty quickly, one suspects The Wall Street Part of Town and Guantanamo, regardless of the political content rocks along very nicely, thank you and will be kicking around the fringes of Hughesy's Top 1500 Most Played for a while.