Sunday, 29 July 2012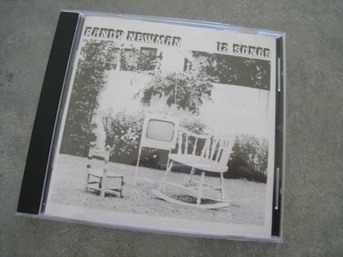 By the time his second album came out in 1970 Randy Newman had already spent close to a decade as a staff writer for a Los Angeles music publisher and had scored enough minor hits to acquire a reputation. After Alan Price's Simon Smith and Manfred Mann's So Long Dad a review noting the presence of a Randy Newman song was close to a trademark of quality as far as I was concerned.
When it came to recording his own material, on the other hand, things hadn't quite matched expectations. While he'd had plenty of experience cutting demos in the studio the heavily orchestrated Lenny Waronker and Van Dyke Parks produced Randy Newman (Creates Something New Under the Sun) delivered semi-baroque arrangements around a vocal style that was, well, idiosyncratic. It was obviously something the Warner Brothers marketing division were aware of (Once you get used to it, his voice is really something was the headline in one advertisement) and with the hindsight that comes with forty-plus years I'm inclined to put some of that down to the influence of Van Dyke Parks, who's more than slightly idiosyncratic in the vocal and arranging department himself.
Still, the material was strong once you got past the eccentricities. I mean, how can you not like an album that contains Love Story (You and Me), So Long Dad, I Think It's Going to Rain Today and Davy the Fat Boy? You might wish he'd done them a little differently, but there was no doubting the quality of the writing.
That's not to suggest it was a complete flop. Paul McCartney, for one, was apparently a big fan, and the album gained its share of kudos from peers and critics. The problem was that it didn't attract a whole lot of airplay and sales were minimal.
Rather than surrounding Newman with seventy-five musicians for 12 Songs, Lenny Waronker went for the small combo approach, basing things around Newman's piano and guitar work from Clarence White and Ry Cooder. Add some bass drums and percussion and the result is a lot more direct in the instrumental department. A lack of ornate orchestration tends to pare back the vocal mannerisms as well, and through Have You Seen My Baby? and Let's Burn Down the Cornfield things are fairly straightforward. 
Baby is, to all intents and purposes, New Orleans-style R&B, and while a critic might question the lack of piano on Cornfield I'd point straight towards that slide guitar work from Mr Cooder and ask why you'd be looking to let something else get in the way. Mama Told Me Not to Come was covered by Three Dog Night, and comes across here as a wry observation on the L.A. Rock world's party scene as seen through the eyes of an innocent abroad. Would you like whiskey with your water? indeed.
That innocent abroad may well have ended up on the end of the line in the understated Suzanne, where there's a creepy caller who found your name in a telephone booth. Reviews at the time had the voice as a rapist, and if he isn't there's still no way his intentions are what we used to term honourable. 
Given the sequencing, you can't help thinking he may be the same dude who turns up in Lover's Prayer, just under two minutes of protagonist looking for nothing more involved than a quick complication-free relationship that may or may not involve commitment. He's certainly not looking for discussion of anything controversial (I was entertaining a little girl up in the rooms, Lord/With California wine and French perfume/She started to talk to me 'bout the war, Lord/Said, 'I don't wanna talk about the war').