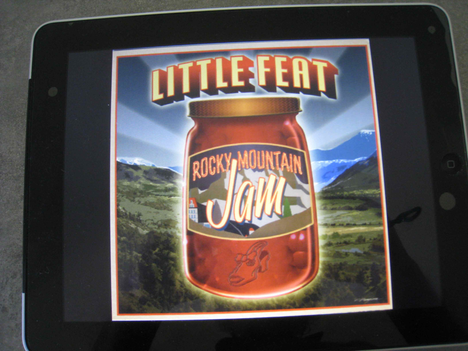 Rocky Mountain Jam kicks off with a spirited six and a bit minute Marginal Creatures, follows it with close to a dozen minutes of One Clear Moment > Sunday Jam, which is probably where anyone who isn't into lengthy jamming will want to jump ship, since Spanish Moon > Skin It Back fills a solid quarter of an hour and the take on Dixie Chicken tips the scales at just over twenty-one minutes. In the light of those two, close to seven minutes of Rocket In My Pocket and a slightly leaner Feats Don't Fail Me Now might be seen as light relief, but if you're Jam-averse, Rocky Mountain Jam ain't gonna be your scene (man).
On the other hand, if you've heard a lot of sub-par mindless boogie with limited dynamics you might just be inclined to have a listen to what half a dozen musos with substantial playing chops (check the list of collaborations for individual members here) can do when they've decided to stave off boredom with tracks they're probably expected to play every night (Dixie Chicken) or have to include in the setlist on a regular basis (Spanish Moon, Skin It Back, Rocket In My Pocket, Feats Don't Fail Me Now).
Mightn't be everybody's cup of tea, but it goes down just fine in these parts, and if it sounds like the sort of thing that floats your boat comes with a hearty recommendation from the Little House of Concrete.