Thursday, 12 September 2013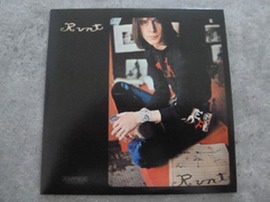 Whether you regard this effort as the self-titled debut of a band called Runt or as Todd Rundgren's solo debut there's no arguing where it lies in the Rundgren chronology which is, as far as I'm concerned, all that matters.
At the initial time of release, however, Runt was identified as a trio consisting of Rundgren (guitars, keyboards, vocals), and brothers Hunt (drums), and Tony Sales (bass), sons of comedian Soupy Sales who went on to collaborate with David Bowie in Tin Machine. The entire album was written and produced by Rundgren,who'd freed himself from the Nazz, but wasn't quite ready (by all accounts) to go solo. As he stated about the subsequent Runt: The Ballad of Todd Rundgren there were some things he couldn't quite manage yet, and most of them involved rhythm section duties.
What he had managed to get his head around, however, was the studio, collecting an engineer's credit for The Band's Stage Fright, recorded at Albert Grossman's Bearsville Studios in upstate New York and persuading Grossman that he had something to offer from his own artistic bat. 
That should have been obvious from his stint with The Nazz, but here he's out to demonstrate his ability to cut it on his own, presenting a blend of guitar driven power pop and piano-based ballads that come across as an interesting fusion of elements and hinted at interesting things to come.
Rundgren's guitar work drives Broke Down and Busted, a gospel blues psychedelic workout before the first of the piano ballads (Believe in Me). The piano's at the forefront for We Got to Get You a Woman, the breezy slice of Brill Building soundalike that turned into a minor hit (as it should have, it's a rather classy number, very well put together in a  Laura Nyro meets Carole King fashion) and the poppy stuff continues with a rocking and surprisingly cheerful (given the circumstances) Who's That Man.
Rundgren drops the Carole King vocal tone on the next piano ballad, Once Burned, which may or may not have anything to do with the guest appearances from The Band's Rick Danko and Levon Helm. There's a bit more drive in the hard-hitting and rather power poppy Devil's Bite and Rundgren's sarcastic streak comes to the fore in I'm in the Clique, a biting commentary on the state of the music industry with bustling riffs and repetitive  robotic vocals in the verses.
That same quirkiness also lurks behind the absence of lyrics in There Are No Words, with echoes of Gregorian chant and dash of Brian Wilson, and the Laura Nyro piano elements are back (he even checks her by name) at the start of Baby Let's Swing/The Last Thing You Said/Don't Tie My Hands, five and a half minutes of classy pop medley before another pop suite (nine and a quarter minutes of Birthday Carol) takes the listener through a fair proportion of the tricks up the Rundgren sleeve.
Birthday Carol's subdued classical intro, an instrumental passage that has odd echoes of early Steve Miller Band with subdued horns that drifts into blues-styled guitar workout, harmony soaked piano ballad, subdued folky bit that builds back into rocking guitar and horn-driven R & B that drops back into classical territory doesn't quite add up to everything and the kitchen sink, but it's not far off.
File under: Signs of things to come. if you're not familiar with the man and his work this wouldn't be a bad place to start.