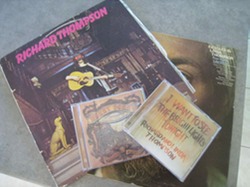 When I first started listening to and collecting music in the late sixties I was living in Townsville, well away from the mainstream of the Australian music scene, which was itself about the same distance from the mainstream of what was happening in London, New York and California. 
It didn't take long to realise that a sudden upsurge in my social life (We're having a party on Saturday night, Hughesy. Do you want to come? .... Oh, and bring your records with you....) was completely unrelated to any personality issues. No one else at Pimlico High had Blue Cheer's Summertime Blues and even singles and EPs by Hendrix and Cream were few and far between. And for high school students albums were almost out of the question....
The need to keep track of what was happening overseas meant that you needed to be reading music magazines, which, predictably, were almost exclusively British. The delay between the overseas release by anyone short of Beatles/Stones status and the Australian equivalent was, coincidentally, even longer than the time the magazines took to reach here by surface mail, which seemed to involve a slow boat routed via Tierra del Fuego....
In the hunt for some snippet that might lead off in a useful direction, it was a case of scrutinising everything in the particular periodical under perusal, with predictable attention being devoted to the album reviews. 
Over the years, some things stuck in my mind although the precise details are vague. I seem, for instance, to recall an explanation of the somewhat unusual title of Fairport Convention's third album Unhalfbricking.
I'd read about Fairport Convention before that and had them filed away as one of those acts that needed further investigation, something that happened once their albums started turning up in the discount bins at Woolworth's in Townsville, the avenue for much of Hughesy's early exploration of the back streets, country lanes and sleepy bayous of popular music.