Friday, 26 April 2013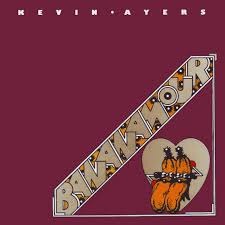 Coming at the end of Ayers' first stint on Harvest Records, his fourth studio album came with a new rhythm section (drummer Eddie Sparrow and bassist Archie Legget) and delivered some of his most accessible recordings, apparently intended to break Ayers to a wider audience (he was on the verge of switching management to John Reid, who was looking after Elton John's career at the time).
Given the fact that we're talking Kevin Ayers here, you might baulk at that suggestion of wider audiences, at which point I'd ask how else you'd explain the presence of the British music industry's premier session vocalists (Liza Strike, Doris Troy, and Barry St. John) to flesh out the vocal sound and deliver a healthy dose of Dark Side Of The Moon to the proceedings. 
Their presence, and that influence is obvious from the first chorus of the Beatles-tinged Don't Let It Get You Down and the chorus swells as it modulates through the chord progression. There's a definite nod towards the pop end of the spectrum, a great horn section and an arrangement that delivers an almost perfect opener. Shouting In A Bucket Blues follows it up very nicely indeed, with tasty Steve Hillage licks under the vocal in a tongue-in-cheek exercise in intelligent pop song. Hillage soars, Ayers does a passable impersonation of Leonard Cohen and all's well with the world. 
That changes When Your Parents Go To Sleep which comes across as an exercise in writing something that doesn't suit Ayers' vocal timbre, which (presumably) is why he hands the vocal duties over to bassist Archie Leggett. It's the sort of move that might well work in concert (give the front man a break territory, folks) but doesn't make much sense here on a Kevin Ayers album. It's not that the vibe doesn't fit with the rest of the album, the horns work fine and the previously noted backing vocalists are working the same territory as they have been earlier in proceedings, but this little Stax knockoff would probably have been better as a single B-side or as an Archie Leggett solo piece. It works, but doesn't quite work here, if you catch my drift.
With a distorted vocal that sounds like the singer is out on the periphery rather than front and centre, Interview lines up rugged guitar (Ayers) with spacey psychedelic organ (Ratledge) over an odd minimalist funky percussion rhythm to create some of the trippiest moments on the album, crossfading into Internotional Anthem, which does another odd bit of lining things up. There's some of Don't Let it Get You Down (For Rachel) matched with some lyrics from Interview, delivered by the Dark Side of the Moon backing vocal ensemble, which sounds like a bit of a hodgepodge but works as a lead in to the eight minute drone of Decadence, Ayers' portrait of Nico, ex-Velvet Underground chanteuse and creator of The Marble Index and Desertshore: Watch her out there on display / Dancing in her sleepy way / While all her visions start to play / On the icicles of our decay / And all along the desert shore / She wanders further evermore / The only thing that's left to try / She says to live I have to die. 
It's undeniably the album's set piece major artistic statement, and quite an impressive achievement, an atmospheric exercise quite unlike the rest of the album, and several light years from Ayers' regular territory though he'll be back in the same neighbourhood on Confessions of Dr. Dream. There's an almost Kraut rock vibe (hardly surprising given the subject matter) with Steve Hillage's spacy guitar over a bed of hypnotic guitars, droning synthesisers and metronomic beats.