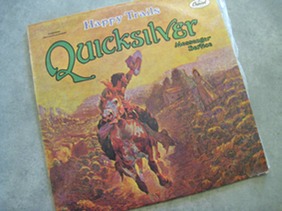 It was a chance encounter with a copy of Rolling Stone that led me to one of my all-time favourite albums. A glance at the list of favourites won't show Happy Trails by the Quicksilver Messenger Service, but it's certainly bubbling under my top five other albums.
Back in 1968 Rolling Stone had only been in existence for a year or so, and like most of the underground or hippie alternative music media wasn't widely distributed in Australia and when copies made it as far as Townsville they were almost immediately snapped up by whoever happened to spot them first.
Now, there's every chance that I would have eventually run across Happy Trails if I hadn't read Greil Marcus' review in RS #32 (3 May 1969). After all we're talking one of the second tier San Francisco bands, and I managed to run across Mother Earth and the Steve Miller Band, as Rear Views around this one prove. 
But with my copy of the issue in question being scrutinised with an intense scrute from cover to cover Marcus' glowing review was always going to add the album to Hughesy's must hear at the earliest opportunity list.
Quicksilver Messenger Service was one of the leading acts on San Francisco's psychedelic scene in the mid-to-late 1960s, played a significant part in the development of California psychedelic rock and typified the style, attitude and sound of that era.  John Cipollina's heavily tremoloed guitar work made the band hugely popular in the Bay Area but Quicksilver's popularity waned as the decade ended, and they never managed the same high profile as Jefferson Airplane, the Grateful Dead or even Country Joe & The Fish.
The earliest line-up, which lasted until mid-1965 comprised guitarists John Cipollina (an ex-real estate agent) and Skip Spence, David Freiberg on bass, Casey Sonoban on drums and vocalist Jim Murray. Freiberg had been in a band with Paul Kantner and David Crosby but had just been released after a spell behind bars for possession of marijuana.