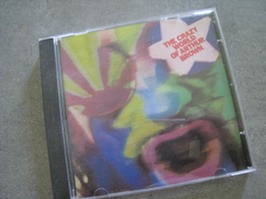 Jimi Hendrix, famously, set fire to his guitar on several occasions. Arthur Brown went one better, setting fire to himself.
Strictly speaking the incendiary object was a metal contraption attached to his head, but accidents can, do and invariably will, happen.  During a performance at Windsor, the methanol which fuelled the God of Hellfire poured over his head and caught fire. Prompt action by members of the audience saved the day as Brown's burning head was extinguished by pints of beer. 
Reports of such incidents spread as far as Townsville, where a couple of high school students were suitably impressed. We were even more impressed when the Top 40 started featuring a voice announcing I am the god of hell fire, and I bring you ... Fire!
Fire was one of the eccentric singles that attracted attention around that time, and the news that the Crazy World of Arthur Brown had produced an album had us licking our lips in anticipation.
Forty years later some elements of The Crazy World of Arthur Brown stand up surprisingly well. It's hardly the most consistent of recordings, though, and in an age where you can buy tracks individually, you could put together a classy little mini-album for fans of the psychedelic genre by combining the first side of the vinyl version with the pick of what's on offer on the reverse side.
The album centres around two key elements - Brown's multi-octave vocals and Vincent Crane's driving organ. You get both of those in abundant bundles on the opening Prelude/Nightmare, which kicks off a side-long suite based around Fire and which seems to have been the centrepiece of Brown's live show. The rest of the live repertoire seems to have ended up over on Side Two.