Tuesday, 9 November 2010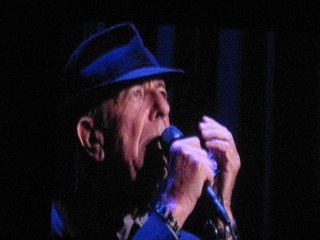 It's close to forty years since Hughesy's circle of high school acquaintances was rocked by the reappearance of one of our peers who had spent much of the intervening two years in Sydney.
The girl we remembered as a pigtailed pony-lover (that girlie horse fixation personified) was now, we learned, circulating on the edges of the Sydney underground, au fait with a countercultural iconography we could mostly only dream of.
Most of the details of conversations that took place, as far as I can recall, around Christmas 1970 have long since faded, but one comment has well and truly stuck.
This Leonard Cohen they're all raving about down there, she sked. Have you heard him? My God! How depressing! And so boring! But they all love him.
That assessment would have been based on Songs of Leonard Cohen and Songs From A Room, which were hardly the most dynamic of performances, being largely in bard of the bedsit mode. That's not to knock the albums, but they were hardly the sort of thing suited to a close to three hour concert setting.
But that was four decades ago, when you couldn't have expected anything much over forty-five minutes in a concert set and prices were well below the current level.
If you're paying over $200, you want something more than a bare forty-five to sixty minutes.
Of course, at that stage Cohen was a relatively young man in his mid-thirties. No spring chicken, but an established literary figure who'd been able to add an extra string to his bow and could, from all accounts, eke out a comfortable existence following his muse. That muse took him into more varied musical territory as the years passed, and revealed a hitherto well-concealed  sense of humour, but I never really saw Cohen as a mass market superstar.
Financial issues pushed Cohen back onto the road in 2008 after a fifteen year hiatus, and Saturday night's show at the Brisbane Entertainment Centre marked the opening of a twenty day, nine concert Australian tour. 
Before the forced resumption of touring activity two and a half years ago, an extensive period of intensive rehearsals produced a set list that doesn't vary much from night to night, and I'd set off for the show armed with what was more than likely going to be almost exactly what lay in store. It was a weird feeling. 
While there are plenty of shows out there where you can be pretty sure what you're going to be getting, many of them operate in the territory where high-tech spectacle interfaces with musical content and the guitar solo in the third encore needs to be exactly thirty-eight seconds long because that's where some stunning visual effect cuts in...
As a rule I tend to prefer acts that mix it up a little, but here we were, fully expecting a show that would start with Dance Me To The End of Love and follow the same set-list as recent shows. At least you're not going to have the feeling that you went on the wrong night, because the following night the audience were treated to something that was last played back in....
That's the sort of territory you might get with an Elvis Costello show ("In Canberra he played I Throw My Toys Around," webmaster JohnE informed me a little over twelve months ago before the Brisbane concert, referring to a little-known number Elvis contributed to the soundtrack of the Rugrats movie) but you know Leonard doesn't operate in that sort of environment so you don't expect it.