Friday, 22 June 2012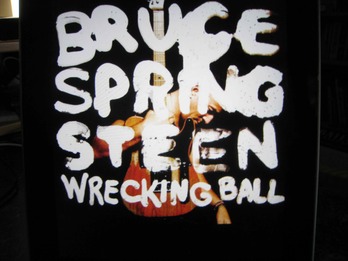 A few months back rumours of a Bruce Springsteen and the E Street Band tour of Australia had Hughesy doing a spot of calculating to see whether the finances would run to multiple shows on tour.
The conclusion I came to at the time was that, yes, starting from the first show which was probably in Brisbane, I could keep on trying for tickets (second show in Brisbane, first Melbourne, second Melbourne, first Sydney, second Sydney and anything tagged on after that) until I missed a ticket for a show and at that point I could stop.
Now, having listened to Wrecking Ball a couple of months after those rumours I'm beginning to doubt whether the rumoured tour was ever likely to have gone ahead. 
The 2003 Tour, with set lists heavy on material from The Rising was, by all accounts, a financial disaster zone and you'd expect the subject matter on Wrecking Ball would have promoters Down Under wondering whether it'd be likely to produce significant bums on seats action, or enough action to recoup the costs of bringing a significantly expanded E Street Band and entourage half way around the world.
Now, the reader might be wondering what Hughesy's inclination to attend multiple concerts has to do with the new Springsteen album, but I should start by making it clear I'm a serious fan coming off close to forty years' exposure to one of the giants of the rock era.
That's a significant consideration since Down under reactions to Bruce tend towards the lukewarm as far as the average punter is concerned.
How you like your Bruce is, of course, the factor here, and if you're a non-Bruce type Wrecking Ball's hardly likely to change your attitude and bring you aboard the train that's heading for the Land of Hopes and Dreams.
From the opening notes of We Take Care of Our Own it's obvious we've got a Springsteen album in front of us. Listen to that intro and you're left with only two likely candidates, with the second one being a Bruce clone. Go a little further and the listener could be tempted to file Wrecking Ball into the same proudly patriotic category where certain misguided individuals tend to file Born in the USA, but a closer examination of the lyrical content reveals a degree of uncertainty lurking under what sounds, on the surface, like another exercise of tub-thumping chest pounding American exceptionalism.
Dismissing the track on that basis would be easy to do on a first listen, particularly given the fact it's the first single off the album but in doing so you'd be neglecting the way Springsteen works. A closer listen reveals a voice asking if this is the way things are supposed to be, why aren't things the way they're supposed to be? Where's the promise from sea to shining sea? is a good and perfectly apposite question.
We tend to forget, and among the posturing of right wing nationalists forgetting isn't a difficult thing to do, there's a strong left wing tradition of co-operation and working class solidarity that dates back through the Great Depression and the Civil War to the American Revolution. It hasn't always been obvious, and was the sort of thing that troubled all sorts of commentators through the past two hundred and twenty years, but it has always been there lurking in the background.
And in the wake of the Global Financial Crisis it's starting to stick its head up again.