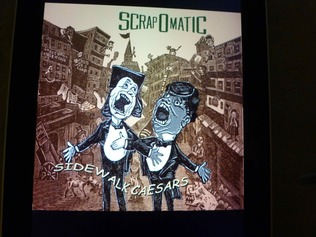 The more things change, it is said, the more they stay the same. With two albums under their belt, both supervised by veteran producer John Snyder, the production credit on Scrapomatic's third album goes to singer Mike Mattison and engineer/mixer Jeff Bakos. There's also a change in the instrumental roster, with Mattison and guitarist/vocalist Paul Olsen joined by their regular road band (Dave Yoke on guitar, Ted Pecchio on bass and vocals and drummer Tyler Greenwell).
Apart from that it's pretty much a case of business as usual. Olsen and Mattison continue to draw their inspiration from acoustic blues, throwing solid chunks of rustic folk, country, Southern rock, R&B and soul, swamp pop, gospel and even a dash of 80s punk into a musical stew that blends American musical traditions with twenty-first century overtones. Eclectic but focussed, diverse but almost seamlessly integrated, still based around Mattison's gruff growl and Olsen's guitar, but with added oomph from a regular road band.
There's a bit of veering between the sacred and the profane hereabouts, from the spiritual overtones that set up He Called My Name which comes with a sanctified strut as Paul Olsen's guitar plays off Derek Trucks' understated slide through the good time down home two tempo ode to the Drink House to Killing Yourself On Purpose, a bluesy examination of the consequences of (over)consumption.
We're talking blues roots filtered through a literary sensibility here, folks, with Mattison's grizzled vocal echoing some of the greats of the genre, veering over towards gospel territory for I Want the Truth, with uncharacteristically understated Derek Trucks slide back into the mix. There are hearty helpings of organic home cooked soul on Remember This Day and Long Gone and a more country feel atop a Stax-style groove as Olsen takes the vocal lead on Hook, Line and Sinker.
There's a jaunty, peppy start to The Fire Next Time, with the old spiritual line about a bit less water next time around, and The Old Whiskey Show waltzes through three minutes of meditation on distillery-based philosophising, a theme that continues through Skip James' Drunken Spree, fingerpicked and cakewalked into a jaunty bit of medicine show hokum.
Long-Haired State works heartfelt ballad territory, revisiting themes that Mattison and Olsen have been developing throughout the album, and I Just Wanna Hang Around With You, a Robert Hazard cover choogles through three minutes of punk-pop before Olsen winds things up with a warm Good Luck With Your Impossible Dream with subtle fretwork delivering an understated conclusion that may or may not be in keeping with the overall vibe that has run through everything that precedes it.
That final track is enough to point out that Olsen's a substantial talent in his own right, and his guitar work throughout is solid (as is Dave Yoke's) but it is, I think, inevitable that Mattison almost invariably ends up dominating the Scrapomatic landscape, and that's not a bad thing. There's something quite distinctive about his vocal chords, a malleable instrument with a remarkable range from a keening falsetto to a subterranean growl that can swoop effortlessly in either direction, and it's not just range. The man manages to invoke a variety of tones and flavours that add light and shade to material that's occasionally obtuse, veers between innocence and  feverish intensity, and blends disparate elements into an inimitable gumbo that draws on the spirit of the Delta blues and to focus on timeless themes.
While Mattison will inevitably cop the kudos it wouldn't be the same without Olsen's contribution to a classy expanded duo carving themselves a firm niche in what looks to be a very viable market in and around the Tedeschi-Trucks axis.