Wednesday, 27 June 2012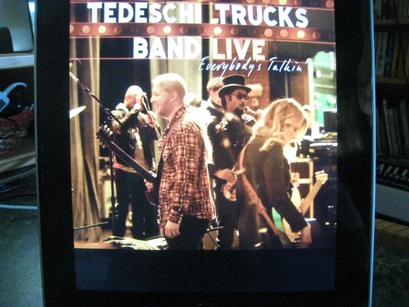 Half way through the opening Everybody's Talkin' someone unfamiliar with Derek Trucks, Susan Tedeschi and the Tedeschi Trucks Band might be wondering what all the fuss is about. Their debut album Revelator had taken out the 2012 Grammy for Best Blues Album, which says something, and was described as a masterpiece in Rolling Stone, which doesn't exactly have the critical clout it once enjoyed.
So what's all the fuss about?
If that's the reaction, and you're thinking the Nilsson cover's a routine workout through a song that hasn't quite been done to death but isn't far away from that status, if you haven't reached the tasty solo from Mr Trucks that kicks in around the three minute mark, shuffle forward to the Swamp Raga intro to Midnight in Harlem, and things become much clearer. 
Let things run through to the end of the trademark Trucks solo that concludes the number and you may well be convinced, if not, leave things in place into the growling guitar intro and blasts from the three-piece brass section that kick off Learn How to Love and we're just about in I rest my case territory.
You might think that's a little extravagant, and when you're talking an eleven-piece touring outfit musical extravaganzas are definitely on the cards, but when you start with Derek Trucks, one of the best slide guitarists going around, and throw in his missus, Grammy-winner in her own right Susan Tedeschi, you're probably guaranteed something reasonably classy from the word go. 
Just how classy (assuming Midnight in Harlem hasn't blown you away) becomes obvious as Learn How to Love veers off into an instrumental break that has both guitars firing off each other, riffing in with Oteil Burbridge's bass lines and punctuated by that brass section and...
There's plenty of light and shade possible with all those elements, and as Bound for Glory kicks off I'm reminded of the old adage about what you leave out being as important as what you actually play. Around the four minute mark everybody else drops out as the Burbridge brothers step to the fore. Kofi on keys, Oteil on bass with the rest of the band gradually sneaking back in over the next couple of minutes. 6:30 in and there's a swell of acknowledgement from the crowd that leads into a Derek Trucks solo that builds past the nine minute mark before his missus is back with the vocal line, Mike Mattison and Mark Rivers harmonising in the background, and there's still close to three minutes to go. That's enough time for Mr Trucks to sneak back in for another little shredding solo before the track reaches a triumphal conclusion.
So we're not talking the old three or four minute routine here, folks. Everybody's Talkin' runs to five and a half, Midnight In Harlem a tad after ten and a half, Learn How to Love about a minute shorter, close to thirteen for Bound For Glory.
Even the shortest track, an interesting reading of Muddy Waters' Rollin' and Tumblin' clocks in just under five. Around ten and a half minutes of Nobody's Free gives Susan Tedeschi a chance to give an impressive set of pipes a thorough working over, as does Darling Be Home Soon. Until I heard this reading I didn't realise it was a case of not being able to wait an extra minute if you dawdled and waiting since you toddled/For the great relief of having you to talk to.