Tuesday, 19 June 2012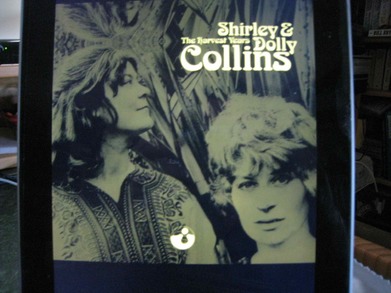 Here's a perfect example of how loose things were at the start of the rock music album era in the late sixties. It was a time when the major British labels were reefing in the big dollars through acts like The Beatles (Parlophone, part of the EMI Group), The Rolling Stones (Decca) and there was still room for independents and minor labels like Polydor (The Who, Jimi Hendrix, Cream) and Island (Spencer Davis Group, Traffic, Free, Spooky Tooth). There were different arrangements for American distribution, but let's stick with the British side of things for the moment.
There were also a number of independents which seemed to be doing quite well for themselves, thank you, including the British Immediate label and the American Elektra, which had, wonder of wonders, scored big time chart action with the Incredible String Band's The Hangman's Beautiful Daughter.
Those independents traded, to a large extent, on a hipness quotient that was probably best expressed in the roster of acts on the American Warner Brothers (Randy Newman, Ry Cooder, Little Feat, for example). They mightn't have sold a whole lot of records but boy, were those labels hip!
Maybe the search for something similar impelled EMI to create Harvest Records in 1969 as an outlet for progressive music and competition for similar projects started by Philips (Vertigo) and Decca (Deram) along with the Islands, Elektras, Immediates and Warner Brothers. It was a fiercely competitive market, and Elektra managed to get The Hangman's Beautiful Daughter into the UK album charts for 27 weeks, peaking as high as #5, selling over three-quarters of a million copies over the years against fairly hairy competition including The Beatles, Beggars Banquet, Electric Ladyland, In Search of the Lost Chord, The Kinks Are the Village Green Preservation Society, Ogdens' Nut Gone Flake, A Saucerful of Secrets, Traffic and Wheels of Fire.
Well, if that could happen, why not put out a couple of albums of traditional folk tunes? Take one of the better traditional singers, back her with her sister's portative organ and the  viols, recorders, sackbuts and crumhorns of the Early Music Consort of London. 
You never know. It might sell.
Harvest had acts on the roster that were likely to move large quantities of product (Deep Purple and Pink Floyd for starters) so the cash to pay for what might well be seen as an extravagance or two was probably in the coffers. And you never know. It might sell.
The result was Anthems in Eden by Shirley and Dolly Collins, an album comprising a 28-minute set of songs on the first side and seven individual pieces on the flip side. The version here on The Harvest Years pads out the original tracks with six more recorded in 1976 with a different lineup largely drawn from Ashley Hutchings' Albion Band that were subsequently aligned with the first side's song cycle and released as Amaranth.