Sunday, 8 July 2012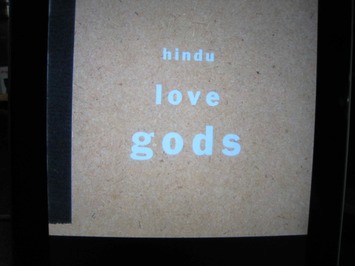 OK, there's probably nothing here that you haven't heard before. Whether you want to hear them again as done by Warren Zevon and three-quarters of R.E.M. in an impromptu setting from the tail end of sessions for Warren Zevon's Sentimental Hygiene is another situation where mileages may vary.
I'd enjoyed the take on Prince's Raspberry Beret that appeared on the Warren Zevon box and hadn't been inspired to head out to check whether Hindu Love Gods was still available. Given the album's reputation I suspected it had long since been deleted, but when I was getting the discography page for Mr Zevon together I was reminded of its existence and headed over to check whether it was on iTunes. After all, you never know...
First, the back story.
An R.E.M. spinoff called the Hindu Love Gods played three one off gigs in Athens, Georgia in February and June 1984, with the instrumental component of R.E.M. (Bill Berry on drums, Peter Buck on guitar) and bassist Mike Mills joined by Bryan Cook (vocals and piano), R.E.M. singer Michael Stipe (vocals and drums) and Zevon on vocals. 
There was no Zevon or Stipe involvement for the first gig (on Valentine's Day, with a setlist reading Bangkok, With A Girl Like You, I'm Through With You, Walk, Don't Run, Personality Crisis, Narrator, California Sun, Pipeline, Needles And Pins, Government Center, Hippy Hippy Shake, (I'm Not Your) Stepping Stone, Permanent Vacation, Jump, Color Me Impressed).
There was a second show a fortnight later, with Zevon and Stipe on board (Up On The Cross, Boom Boom Mancini, Trouble Waiting To Happen, Werewolves Of London, Gonna Have A Good Time Tonight [Bryan Cook vocal], Little America and Second Guessing [ both Stipe vocals], Gloria, Rebel Rebel, Wild Thing). One notes the presence of Boom Boom Mancini and Trouble Waiting To Happen, both of which appeared in Sentimental Hygiene three years later.
A third gig in June was back to the Cook/Berry/Buck/Mills configuration and was followed by a studio session (Berry/Buck/Cook/Mills/Zevon) that produced a single Gonna Have A Good Time Tonight (the old Easybeats number)/Narrator.
Given the fact that the whole R.E.M./Hindu Love Gods bit gets only passing references in the Warren Zevon biography (I'll Sleep When I'm Dead: The Dirty Life and Times of Warren Zevon) there's no way you can be sure of anything beyond what's outlined above (and those set-lists suggest some form of magnetic memory) but this period seems to have produced a set of demo tapes (p. 191 of the bio) and you'd assume there was a fair bit of general jamming along the way.
Zevon didn't have a recording contract at the time, attempts to hawk the demos around the majors failed to produce one and it wasn't until 1987 that Virgin came on board and Zevon was back in collaboration with R.E.M. for the sessions that produced both this album and 
Sentimental Hygiene, which was released at the end of August that year.