Wednesday, 5 October 2011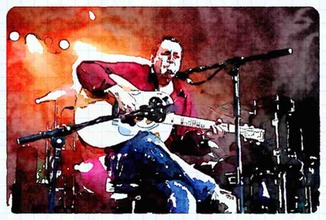 When you're talking influences and strands running through genres it's easy to skip past the largely forgotten yet extremely influential artists Bert Jansch. He'd been around for years, produced an extensive discography that's going to chew up an awful lot of credit card cash and shaped the playing of, among others, Jimmy Page and Neil Young, a rather interesting combination as far as Hughesy's concerned.
After all, when you think Led Zeppelin you tend to think in terms of thundering rifferamas, and while Neil Young can also thunder it out with the best of the turn it up to 11 crowd he's got an extensive array of fairly straightforward acoustic material, with Ambulance Blues being a pretty straightforward lift from Jansch's Needle of Death, which you can also hear echoes of in The Needle and the Damage Done. 
The influence was strong enough to have Young use Jansch as the opening act on his 2010 Twisted Road tour of North America. He was, according to Young, the acoustic equivalent of Jimi Hendrix.
Jansch influenced plenty of others along the way, including Johnny Marr from the Smiths, the Incredible String Band's Robin Williamson (a former housemate), Paul Simon, Pete Townshend, Donovan Nick Drake and, more recently, Devendra Banhart, Joanna Newsom, Espers, Babyshambles singer Pete Doherty, Beth Orton and Laura Marling.
A Scot of German extraction, Jansch was born in Glasgow, moved to Edinburgh as a child shortly before he fell under the spell of the guitar, Elvis Presley, Bill Haley and Lonnie Donegan after a primary school teacher in Edinburgh brought one into class. His parents couldn't afford a guitar, so he had a couple of goes at building his own before he came up with something that worked.