Sunday, 24 June 2012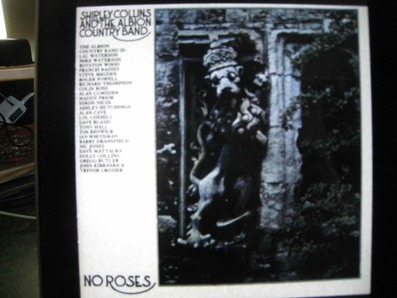 Having left Fairport Convention because he wanted to explore traditional material rather than attempt to recreate a traditional vibe through original material and been pushed out of Steeleye Span, the band he formed to explore that inclination when they elected to pursue a more obviously commercial direction it probably comes as no surprise to find Ashley Hutchings launching another project in the same territory with his wife Shirley Collins.
Fairport Convention had started life as an outfit blending American singer-songwriter material with original compositions along the same lines on Fairport Convention, What We Did on Our Holidays  and Unhalfbricking before veering towards traditional material when fiddler Dave Swarbrick joined the band for Liege & Lief. An emerging interest in traditional material had Hutchings searching through the material collected at the English Folk Dance & Song Society Library at Cecil Sharp House, and the research had driven the contents of Liege & Lief, and the electrified versions of traditional songs on the first three Steeleye Span albums (Hark! The Village Wait, Please to See the King and Ten Man Mop, or Mr. Reservoir Butler Rides Again).
A good ten years older than her second husband, Shirley Collins had grown up in an East Sussex family with ties to the area's traditional music, moved to London to attend teachers' college in the early fifties and through the early folk revival movement became involved with the likes of Ewan MacColl, who introduced her to American folk archivist Alan Lomax, in London avoiding the McCarthy era witch hunt in the United States. She'd collaborated with Lomax on the song collecting journey through the American south between July and November 1959 that produced the recordings released on Atlantic Records as Sounds of the South that went on to become a key ingredient in the Coen brothers' film Oh Brother, Where Art Thou and, once she returned to England, record the jazz-folk fusion Folk Roots., New Routes with Davey Graham and collaborate with her sister Dolly (The Sweet Primroses, Anthems in Eden, Love, Death and the Lady) and the Young Tradition (Peter Bellamy, Heather Wood and Royston Wood).
The collaborations with her sister were built around Dolly's pipe or flute organ with additional light and shade from the medieval crumhorns, recorders, sackbuts and viols of London's Early Music Consort with 1969's Anthems in Eden featuring a twenty-eight minute song cycle about changes in rural England and destruction of ancient traditions that came about after the First World War.
After marrying Hutchings in 1971, the couple set about recording No Roses at Sound Techniques, and Air Studios in London, with Collins' vocals backed by a selection from a core group that included Hutchings on bass, Richard Thompson and Simon Nicol on guitars, Roger Powell (drums), and Dave Bland (concertina and hammered dulcimer), with additional toning added by what must have seemed a bewildering array of twenty-plus other musicians in various permutations and combinations.