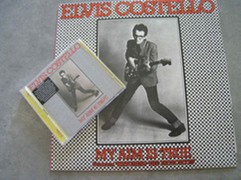 In the liner notes to one of the numerous reissues of My Aim is True, Elvis Costello suggests you might be able to tell which records I had in my collection. I certainly learned quite a bit while shamelessly attempting to copy Randy Newman, Hoagy Carmichael, John Prine, Lowell George, The Band, and many others. 
Maybe that's what made me sit up and take notice the first time I heard the album. I'm not sure about Hoagy Carmichael, but all the others were either part of my own record collection (Randy Newman, Lowell George/Little Feat, The Band) or would have been had I been able to get my hands on them.
Nothing, however, prepared me for the quantum leap that came with Watching the Detectives and This Year's Model, and from there on it has been a case of grabbing virtually everything I can find that Mr Costello has released.
What follows here isn't quite the complete discography, but goes close enough to what I've got in the CD shelves to act as another index to keep track of things discussed in various parts of the site as well as items reviewed hereabouts.