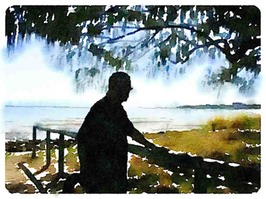 The casual reader may feel that The Wilderness Years is taking it a tad too far, but as I went around the circuit on the morning walk I wasn't able to come up with a better label for the years between the Underworld Era and the renaissance of Hughesy's interest in music in the early to mid-90s.
The arrival of a school principal outside my classroom door, sheaf of transfer papers in hand along with the news that I was bound for the Aboriginal settlement on Palm Island, is probably the logical point to mark the transition. 
For a start, while I was out of town most of the old social circle left and, despite frequent returns on weekends, I didn't have the opportunity to replace them with new contacts.
If your tastes are a reflection of the circumstances around you, it probably comes as no surprise that twelve months on the Palms, which still equates to a Third World environment, shook me out of some of my previous musical interests. 
Under other circumstances I may well have followed up on recent buys like Roxy Music, the Velvet Underground and Bowie's Hunky Dory but those musical styles don't quite cut it in a Third World environment, though some gender-questionable elements may have gone down rather well in the island's queenie/cat subculture. 
That, however, wasn't an avenue I was keen to investigate.
On the other hand when I found myself sitting on the veranda on a tropical island, beer in hand, the soundtrack tended towards the blues, particularly Taj Mahal, along with bits of soul, R&B and the Allman Brothers Band. I came away from the island at the end of 1973 with everything in place for a growing interest in reggae thanks in part to Taj's Mo' Roots, though examples of the music weren't exactly thick on the ground when I got back to Townsville.