Monday 28 January 2013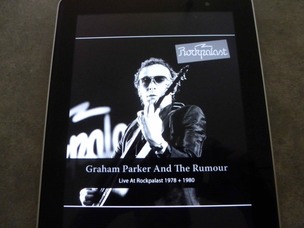 The continuing non-appearance of the new Graham Parker and the Rumour album in the iTunes Store (and, coincidentally, it still hasn't managed a general release in Australia) was what pointed Hughesy towards The Up Escalator, and it was that same Escalator that pushed me in this direction when I made another fruitless visit to iTunes a couple of days back. 
A glance at what they had listed under The Rumour (I'm after a legitimate copy of Max) revealed these Rockpalast shows and a squiz at the track listings showed the second show featured most of The Up Escalator, so the natural curiosity took over. Escalator, after all, was widely panned on sonic grounds, so I was interested in seeing how that material sounded in a live setting.
That, such as it is, is my excuse anyway.
The hard copies of these two shows (also available on DVD) have the 1980 show as Disk One, and the earlier show on the second, which is strange, but ultimately not as annoying as the transposition of Thunder and Rain and Watch the Moon Come Down on the download, something that's easily fixed but shouldn't have happened in the first place.
Apart from that, the download has the shows in the right order, with the earlier one featuring what amounted to The Rumour horns (Albie Donelly and John Earle on saxophones, Dan Ellis on trombone and Dick Hanson, trumpet) while the 1980 version features the post-Bob Andrews Rumour with Nicky Hopkins on keyboards,
As far as the performances go, there isn't anything here that will surprise, apart from the fact that the Escalator material works rather well in the live setting, which hardly comes as a surprise given Parker's reputation as a white hot live act and The Rumour's status as one of the better instrumental combos to emerge from the New Wave ruckus.
Parker delivers his regular archetypal angry young man posture, spitting the lyrics and declaiming his venomous disdain of anyone who sticks their head above the parapet. Fevered, impassioned and, ultimately, the prototype for much of what followed, he comes across as an Anglicised Springsteen or Southside Johnny, working the same sinewy post-Stones and Van Morrison as his stateside equivalents, driven on by a band that's every bit as good as The E Street Band or The Asbury Jukes.
So, no surprises, just a reminder of how good this outfit actually was, and a scratching of the head as to the continuing non-appearance of Three Chords Good, an issue that will hopefully be dealt with in a Sydney music emporium the day after tomorrow.
Track listing:  23 January 1978  18 October 1980