Tuesday, 12 February 2013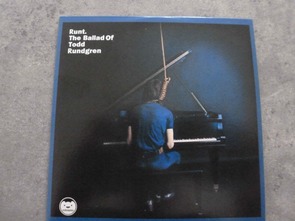 While Todd Rundgren's second solo album was originally credited to the band (Runt) that's probably because there were a couple of things Rundgren couldn't do well enough yet. He wasn't ready to play drums, and hadn't quite got his head around playing bass, which explains the presence Norman D. Smart, John Guerin and Hunt Sales behind the drum kit and bass lines courtesy of Tony Sales and Jerry Scheff. Everything else (guitars, keyboards, synthesizer, saxophones, percussion and vocals) is Rundgren, largely worshipping at the Church of Laura Nyro and Carole King.
That's noticeable from the beginning of Long Flowing Robe (great chorus) and on through  The Ballad (Denny & Jean). Guitar comes to the fore in the riffier Bleeding, which doesn't work as well as its predecessors, though the guitar solo is rather flashy. Wailing Wall is back in piano-driven singer/songwriter mode, pleasant enough, but pretty forgettable shuffle forward material for mine.  Better is the piano-driven The Range War which isn't quite country & western, but is definitely Western, as in Wild, the Hatfield and McCoy feud sort of rewritten into Romeo and Juliet territory.
Don't take yourself too seriously/there are precious few things worth hating nowadays, and none of them are me are the opening lines to Chain Letter and they're probably the best thing about the track, at least until the sort of  anthemic "carry on" ending kicks in about half way through the track. Clever but, in the long run fairly pointless. 
There's some pleasant falsetto in A Long Time, A Long Way to Go, but the song itself is bordering on the fluffy side. Any lighter and it would blow away, and you could say much the same about the multilayered vocals on the piano-driven Boat on the Charles, which delivers some atmospherics sounds pleasant enough but doesn't quite manage to grab the attention and Be Nice to Me, which exerts a bit of fragile charm, but doesn't really insist on it. 
Hope I'm Around is a tad catchier, another piano ballad that works rather well, building to a mildly anthemic ending and Parole brings the guitars back to the fore on a sort of I Fought the Law vibe that's a little too clever to reach outlaw territory. Fifty seconds of Remember Me winds things up, concluding a collection of songs that are obviously the work of a skilled operator and, now that the play count has climbed to 8 aren't likely to progress too much further.
Sure, there's a degree of wit there and the album has its own charm, even if it's a rather low-key who's a clever boy then sort of charm, but in an environment where a track will need to grab the attention before Hughesy hits the shuffle button I don't like their chances (assuming the play count reaches the point where they're in the Top 5000 Most Played.
And for the Top 1500 in a library that's crawling towards 40,000 tracks? Two words. Iceblock and Hades.