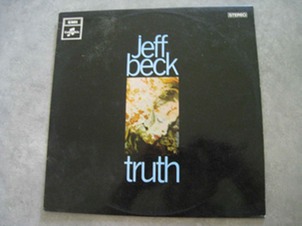 Of the three top line guitarists that emerged from The Yardbirds, my favourite has probably always been Jeff Beck. Not that I've bought everything that the man has put out. Beck's output over the years has been sporadic, and much of it has slipped past unnoticed, at least by Yours Truly.
Unlike his more notable Yardbird guitar-slinging peers, there was a period when Beck's playing was characterised by sparks of what I used to describe as rampant erratic lunacy and it's that element that has Truth, the first album by the Jeff Beck Group, firmly entrenched as one of Hughesy's all-time favourites.
Beck's predecessor in The Yardbirds was Eric Clapton, who went on, through John Mayall's Bluesbreakers and Cream to become God, while his successor was Jimmy Page, whose rise to prominence with Led Zeppelin was achieved by taking elements of the post-Yardbirds Jeff Beck Group and extrapolating them to the point where they became a sort of heavy metal Valhalla. 
That's the mental image I get on the infrequent occasions when I hear something like The Immigrant Song, anyway.
Clapton and Page seemed to have some sort of career path in mind, but one gets the impression that Beck didn't give two knobs of goat excreta for the notion of a conventional long-term career.
Clapton's departure from the Yardbirds was fuelled by a purist urge to play the blues, while Page went on to form The New Yardbirds (subsequently renamed) with himself rather than Keith Relf (or anybody else) as head honcho.
Beck, on the other hand, according to vaguely remembered press reports possibly departed to chase California girls and race hot rods two gigs into a tour of the U.S. A check in Pete Frame's Rock Family Trees, on the other hand, has Beck taking time off due to tonsillitis and subsequently being sacked. A reference to inflamed tonsils, an inflamed brain and an inflamed cock suggests that the cars and girls explanation might not be too far wide of the mark.