Friday, 24 February 2012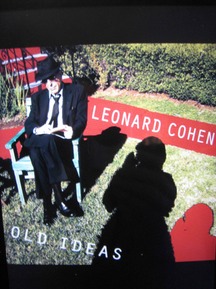 I suspect if you took the most cloth-eared occasional listener and presented him or her with Leonard Cohen's Dear Heather and Old Ideas in quick succession and asked if there was a discernable difference the response would be an unequivocal yes. They mightn't be able to explain the how and the why, being cloth-eared and occasional rather than deeply immersed and music freak, but the difference comes down to the fact that for the last couple of years Cohen has been, to all intents and purposes, a working musician.
Back when Dear Heather was released in 2004 Cohen was coming off the disconcerting discovery his manager had frittered away around ten million dollars that amounted to Leonard's personal superannuation. He'd sold off his publishing and royalties to Sony Music in 1996 and 2001, in a move that was supposed to fund his retirement. Three years later he was down to his last $150,000 and was, virtually, broke. 
The obvious move was to cut a new album, and Dear Heather mightn't have been the greatest thing he's ever done, but there are many Leonard Cohen fans out there, and Hughesy's one of them, so there I was, cheerfully handing over my contribution to Leonard's new retirement fund.
Dear Heather definitely sounded like it had had been pushed together in relative haste, which is understandable given the circumstances, but didn't produce an overwhelming listening experience.
You might hesitate to use terms like lightweight to describe a Leonard Cohen album, but Dear Heather was lighter than 2001's Ten New Songs, and you'd have to suspect the change in mood was the result of a change in personal circumstances, even if that change was a shift in personal relationships and a lifting of depression induced by exposure to Zen Buddhism rather than a discovery of managerial betrayal.
You'd expect, after all, that you'd be able to get the money back, wouldn't you?
But it's not that simple. A 2006 law suit awarded Cohen $9 million, but he wasn't able to collect the money and he was sued in turn by former business associates. There were also, one gathers, certain issues with the Internal Revenue Service, and the obvious way out was to resume touring, which resulted in a two-and-a-half year world tour through 2008-2010, the Live in London DVD and album and last year's Songs from the Road.
Having caught the tour in Brisbane in November 2010, from the first notes of Going Home on the new album it's obvious that we're looking at the result of collaborations shaped on the road rather than in retreat at Mount Baldy. There's a richness and warmth that reflects lengthy exposure to a touring band working in a live environment rather than the studio minimalism that characterised his previous couple of studio efforts. 
That's not to suggest a change of direction. The words are, as ever, finely wrought, not a syllable out of place, and delivered in that familiar world-weary murmur. Instrumentally, while we're into acoustic rather than electronic territory (violin, slide guitar, trumpet, lightly brushed drums) and familiar slow-motion rhythms invoke the blues, hymns and waltzes, delivered low key with those gorgeous semi-whispered phantom female choirs above.