Thursday, 12 May 2011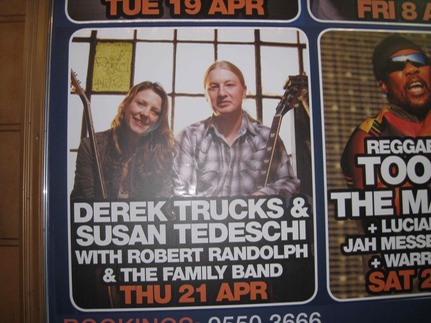 I guess there are plenty of couples facing down the old problem of dual careers and a growing family, and there are all sorts of workarounds to tackle the issue, but when the dual careers involve reasonably high profile musicians with existing and more or less separate careers the logical solution is to find a way to merge them.
That mightn't have been the actual starting point that led to the formation of the Tedeschi Trucks Band, but I suspect that it was there lurking under the surface as things sorted themselves out. After all it's not as if Derek Trucks doesn't have one eye on the future.
Other people would probably have used the money differently, but Derek put his earnings from two years on the road with Eric Clapton's touring band into the construction of Swamp Raga Studios in the back yard of his Jacksonville home, and while 2009's Already Free was recorded there, one album every couple of years probably doesn't rate as a reasonable return on investment unless you see it as part of a substantial learning curve an artist can afford to indulge himself in.
Trucks is on record as saying that he's learning the tricks of the studio as he goes along, so while the need to combine separate careers mightn't have been the starting point, it may well have been a case of discovering that, Hey, this works pretty well as a couple of tracks were being laid down.
From the initial decision to combine the talents of two artists who are significant attractions in their own rights, of course, the problem is one of differentiating the new lineup from the previous configurations of two separate bands. For a while there it seemed like things were working from a try it and see combination of the old Derek Trucks Band and the former Susan Tedeschi Band, but eventually things had to settle down.