Wednesday, 29 February 2012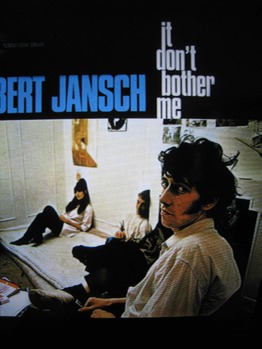 Recorded, according to the Bert Jansch biography (Dazzling Stranger: Bert Jansch and the British Folk and Blues Revival) in a regular studio on standard equipment rather than Bill Leader's flat on a semi-pro tape recorder, Bert Jansch's second album was the result of two or three afternoon sessions and several bottles of wine. 
Those couple of bottles may be responsible for the looser feel second time around. The opening Oh, My Babe sounds like the effort went into the instrumental accompaniment rather than the lyrics, while Ring-a-Ding Bird shows a bit more attention to the words though the intricate fingerpicked guitar work remains the main point of interest. The vocals drop out for Tinker's Blues, reappear for a brief excursion into topical politcs on Anti Apartheid, drop out again for The Wheel and re-emerge, handed to Roy Harper for A Man I'd Rather Be, an exploration of the relative merits of existence as various forms of sentient life. Harper's there on guitar in the background on My Lover, with John Renbourn taking the lead part and Jansch sitting in the middle with the vocal. 
There's a gypsy wayfarer lack of concern on the album's title track that sits comfortably with a bloke who may not, at this stage, have actually owned a guitar. Harvest Your Thought of Love is pretty much what you'd expect, but the album's highlight comes in the complex interplay between Jansch and Renbourn on the latter's Lucky Thirteen. From there, As the Day Grows Longer Now, Alex Campbell's So Long (Been on the Road So Long). Want My Daddy Now and the traditional 900 Miles are reasonably straightforward, though the intricate fingerpicking remains impeccable throughout. It's over to banjo for that final track, but throughout the album there's plenty of evidence to support Neil Young's suggestion that Jansch did for the acoustic guitar what Hendrix did for its electric sibling.
In the pantheon of sixties English folk, Jansch is right up there with the best of them, hugely influential on, among others, Jimmy Page and Nick Drake. The virtuoso blend of folk, blues and Celtic elements mightn't come across as strongly as they did on his debut album, but It Don't Bother Me's an interesting example of an emerging force about to give things a serious shake.