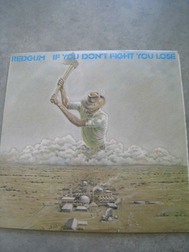 Over the past thirty years there's been a lot of water flow under the bridge but it may come as no surprise to discover that many of the currents that were passing under the bridge all those years ago are still there.
At least, that's how I felt when I sat down to listen to Redgum's first album If You Don't Fight You Lose a few days back.
Discussing something that dates back to the late seventies is going a long way out of the planned sequence for these Rear View pages which involved running through some of Hughesy's favourite albums roughly in the order I encountered them, but given the current state of progress. I'm currently mired down in the late sixties with a good dozen titles to discuss before I even get into the seventies, so if I don't tackle this one now it could still be on the To Do list come 2012 or 2015....
For reasons that'll soon become obvious it had been a number of years since I'd thought of that first Redgum album, but I was in Australiana-reminiscent mode writing my review of Kamerunga's The Push when If You Don't Fight You Lose came to mind.
Right, Hughesy thought, I'd like to hear that again. Wonder if you can buy a copy on line...
A quick Google search revealed that the album is currently unavailable in any legitimate digital format, but there were a number of blog sites where unofficial copies were available so, rather than waiting till I could obtain a USB turntable and the relevant digital conversion software I went for the easier immediate option.
As I sat down to listen I was struck by the fact that a number of the issues that concerned John Schumann and friends back in 1977 are still with us. Some may have changed form slightly, but the more things change, as the saying goes....
The first thing struck me, from the first couple of notes is that it's a stridently Australian album. There's no way you'd pick it as coming from anywhere else. As things continued along the track on subsequent releases Schumann's nasal Strine accent moderated, but there's no way that you're going to place these vocals on any other continent or plonk them down in the middle of any of the intercontinental oceans for that matter.