Saturday, 2 February 2013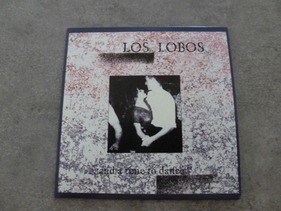 Despite the existence of a brace of earlier recordings, Si Se Puede! (Yes, we can!) and Just Another Band From East L.A. (a.k.a. Los Lobos del Este de Los Angeles) this, I guess is where the Los Lobos story really starts, folks.
That first title, a charity album with proceeds from album sales going to the United Farm Workers of America, looks to be a collection of traditional Tex-Mex instrumentals dates back to 1976, and the second, a similar collection which appeared two years later, was self-released. Both, as you'd expect, are available on CD, and we may well find ourselves setting out to track them down at some point in the future, but as far as the general public goes this is, to all intents and purposes, the start of the Los Lobos we've grown to know and love.
High school acquaintances David Hidalgo and Louie Pérez had bonded over an affinity for the likes of Fairport Convention, Randy Newman and Ry Cooder and spent a year listening, playing guitars, and experimenting with multi-track recordings of their own material before recruiting fellow students Cesar Rosas and Conrad Lozano to complete a core quartet that's still together and functioning forty years later. The fifth member of the current lineup, sax and keys player Steve Berlin gets the co-producer's credit here.
Hidalgo's on record as crediting Fairport's take on traditional English folk music as the inspiration for Los Lobos' similar take on the traditional Mexican music they knew from their childhoods, and years of  playing weddings and dances in their own community sharpened their chops before they came to be noticed by the Hollywood hipsters, with their first major gig being an opening spot for John Lydon (aka Johnny Rotten's) post-punk outfit Public Image Ltd at the Olympic Auditorium in 1980. 
Signed to Slash Records, the Los Angeles label that specialised in local punk and new wave bands and had major distribution though a deal with Warner Brothers, the band's initial big label release was co-produced by T-Bone Burnett and Steve Berlin and garnered critical acclaim (voted best EP of the year in the Village Voice Pazz & Jop poll), attracting an A- from Robert Christgau and collecting a Grammy for Best Mexican-American Performance (Anselma).
It mightn't have sold all that well (though 50,000 isn't to be sneezed at) but the proceeds were enough to fund a van that allowed them to tour more widely and establish Hidalgo and Pérez as a long term writing partnership. Seven tracks, with the duo contributing three (Let's Say Goodnight, Walking Song and How Much Can I Do?) along with Cesar Rosas' Why Do You Do and three covers set the pattern for subsequent releases.
While long term fans may well have most of what's here on compilations $7.99 at iTunes is reasonable, and the EP's inclusion in a Warners Original Albums series (five titles for around $30 though I picked this set up for $20) makes it an attractive proposition if you're inclined to indulge those completist tendencies.
An accordion-driven Let's Say Goodnight kicks things off with a rocking surge, Walking Song might have slipped past the anthologisers but rocks along as a sort of blues-based polka and the cover of Anselma, as noted, was Grammy material and still turns up in the concert setlist from time to time close to thirty years later.  Ritchie Valens' Come On Let's Go sets things in place for the band to pick up the soundtrack gig for the La Bamba movie, How Much Can I Do? sits rather nicely in the same territory, as does Why Do You Do and the accordion's back to the fore for the cover of Don Santiago Jimenez' Ay Te Dejo En San Antonio that winds things up with a lively crossing the border two step. 
As a debut, it's promising enough, but there's no warning of the imminent leap forward that would come with How Will the Wolf Survive. Start from somewhere else and then head across to here and you may well be disappointed, but take a gander at the title. As a good time dance album, this works rather well, and works a treat with a chilled article and good company. There is, after all, a time for such simple pleasures.