Saturday, 14 July 2012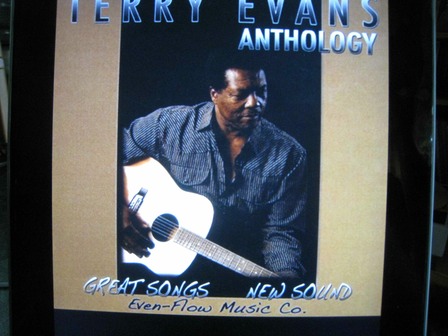 Given the state the music industry finds itself in, news that artists are increasingly taking matters into their own hands should come as no surprise. At least, that's what appears to be the case with this offering from Terry Evans which appears to be re-recordings of songs from a string of albums over the years. 
Evans has been around since the sixties, predictably starting in gospel and going on to work the clubs and juke joints of the AmericanSouth before moving to the West Coast where he took to writing songs and became one of the foremost session singers in Los Angeles, a status that brought him into contact with Ry Cooder. He has also worked with John Fogarty, Joan Armatrading, John Lee Hooker, Boz Scaggs, Maria Muldaur and Pops Staples but it's his duo with Bobby King and work in the studio and on the road with Ry Cooder that brought him to my notice.
Two albums with King and eight on his own looks like an impressive discography, but unless you're a much bigger name you're probably never going to make a living out of CD sales alone, and in a situation where you're touring with a band merchandise sales are going to be a vital source of income.
That, as far as I can gather, provided the motivation for the re-recording, and the fact that it's on his own label means that once he's recouped the costs involved with getting the album out the rest is profit.
As a result you've presumably got the core of his current at the time live set, more or less the way you'd get 'em in a club setting. Let Me Go Back to the Country kicks things off in a lively manner, Natcha Bone Lover is what you'd expect it to be and Honey Boy delivers a semi-Bo Diddley beat in a neighbouring postcode. Nothing surprising just honest blues played by an outfit who know what they're doing. 
There's some tasty guitar work (again nothing flash, but solid fare) on Let Love Begin, and Credit Card Blues shuffles along pleasantly without saying anything you haven't heard before around the time when the monthly statement arrives. There's a more gospel-based approach on Come to the River and after the regulation blues and gospel content to date Shakespeare Didn't Quote That delivers a slightly different perspective on familiar themes, but it's back to regulation territory for What About Me, I Fancy You and I Wanna Be Close to You God.
Good vocalist, solid band with a bit of lead guitar flash without going over the top and nothing a blues fan hasn't heard plenty of times before, but if you've got the readies definitely worth a listen. The current shuffle by album routine has delivered Anthology to within reach of my shuffle-friendly Top 3000 and it'll be interesting to see how far things have progressed in twelve months or so...