Saturday, 20 April 2013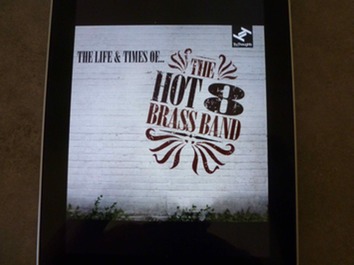 Five years on from the rerelease of their debut album on the British Tru Thoughts label, the second recording from New Orleans Hot 8 Brass Band (the third if you count their contribution to The Blind Boys of Alabama Down In New Orleans in 2008) continues the Hot 8 tradition of recasting New Orleans marching music by filtering more contemporary material through a second line sensibility. 
Last time around it was Marvin Gaye's Sexual Healing and Snoop Dogg's What's My Name? This time Basement Jaxx's Bingo Bango and The Specials' Ghost Town get the Hot 8 treatment but from the opening of Steaming Blues it's obvious we're still looking back at the same roots, hot straight-ahead New Orleans jazz, with the writing credit going to former Hot 8 member Joseph Williams, whose death at the hands of the New Orleans Police Department is the subject examined a few tracks later on Can't Hide From The Truth. The tuba growls, the horns blaze and the hollers and percussion deliver a sound that's a 100% New Orleans fusion of traditional jazz, Afro Cuban, brass band and funk elements.
It would have been easy to do a Trombone Shorty (not that I'm knocking Trombone Shorty, just pointing out a difference in approach) to have headed into and Heavy Friends territory, rousing up guests but no, the Hot 8 work much the same territory as their debut, and you won't find a featuring in the track listing.
There's a fine funky tuba and snare drum driven start to Fine Tuner, a percussive groove with call-and-response vocals that builds gradually to a joyous fusion of parade music, R&B and old-fashioned swing. Basement Jaxx's Bingo Bango gets a Latin-tinged makeover, blending Afro-Cuban and New Orleans elements, jazz and funk influences and braying horns into a joyous salsa before a rap intro runs into New Orleans (After The City), a gospel-derived hip-hop assertion that, basically, there's no place like home and home is where the Hot 8 want to be. At the same time things aren't all rosy on the home turf. 
New Orleans police shot and killed band member Joseph Williams and Can't Hide From The Truth castigates the culprits and those who know what went down. Anger and bitterness run deep, and not without reason, though the truth will set you free. Sure, there's hurt and bitterness in there, and it comes out in the music, but there's also a solid New Orleans second line vibe as the drums rattle and the horns deliver a message that's equal parts protest, tribute and call to celebration. It's a potent blend of seemingly contradictory emotions.
Given some of the redevelopment issues that formed one of the major plot lines for the Treme TV series, you'd possibly have thought someone would have picked up on the idea that The Specials' Ghost Town is a rather obvious fit for post-Katrina New Orleans, The Hot 8 shift it firmly into the casbah with a Moroccan intro that has virtually nothing to do with conventional N'Awlins notions but works just fine anyway when they start ragging on the theme and bring it back home.