Friday, 7 September 2012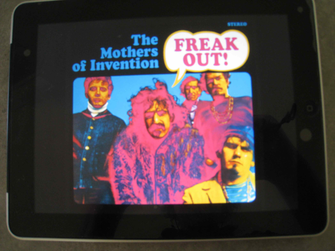 Here's one that'll have anyone who's heard of Frank Zappa without having heard much of his actual output scratching their heads, I think, and, in the wake of a massive re-release program (the Zappa Family Trust are in the process of releasing the back catalogue in a couple of fairly massive tranches) there are likely to be a few folks out there wondering what the expletive deleted is going on here.
The answer to that question, of course, lies in the fact that the item under consideration here is the first album in an extensive discography, and it's worth looking back to where we were in 1966 if we're trying to make sense of what's on offer.
There's a fairly extensive body of writing on FZ and his work, most of which hasn't lobbed on my bookshelves, but I've read a fair bit of it over the years and I do have a copy of Barry Miles' magisterial Frank Zappa (Atlantic Books, 2004), which seems to have most of the bases covered after fairly exhaustive research and a reasonably close personal acquaintance with his subject, and Miles describes Freak Out! as the Bildungsalbum that summed up his entire life to that point (pp.49-50).
Up to that point Zappa had been playing rock, doo wop and R&B, as well as indulging his experimental predilections, so it's hardly surprising there's a heavy R&B doo wop influence in Freak Out! There's also the not inconsiderable point that while the album was cut over a couple of days at Hollywood's Sunset Highland Studios between 9 and 12 March 1966 and released in July, much of the material was written two to three years earlier (p. 101). Interestingly, the sessions started just over a week after they'd been signed.
So we're not quite headed off into the further fringes of wayoutness, and, indeed, what you could get away with in a scatological sense in 1966 was an entirely different kettle of fish to what you could do, say, five years later. So if you're looking for Billy the Mountain or the groupie related content that featured on Fillmore East - June 1971 this won't be your favoured destination.
It's also worth taking a look at the back story, since from the beginnings of Hungry Freaks, Daddy, we're straight into some pretty straightforward rock'n'roll (although it comes with additional kazoo enhancement). It's a background that runs away from the trendier areas of Los Angeles, the likes of Sunset Strip, the Hollywood Hills and Laurel Canyon (though that's where Zappa was based for most of the next thirty-five years).
The urban sprawl extends well east of downtown LA, and out in the boondocks around San Bernardino (more specifically, a locale called Rancho Cucamonga) an aspiring composer, studio owner and guitarist was invited to join a local R&B outfit known as the Soul Giants after a disagreement between singer Ray Collins and guitarist Ray Hunt, who was duly shown (or chose to find) the door.
Zappa's suggestion that the band switch to original material rather than the standard cover version fare they'd been dishing up didn't go down well with original leader and saxophonist Davy Coronado, who reckoned they'd lose gigs and quit. Renaming the ensemble, Zappa took over the leader's role. By late 1965 the band was playing Sunset Strip clubs, where MGM staff producer Tom Wilson offered them a recording contract on the strength of Trouble Every Day, under the impression he was signing a white blues band similar to Chicago's Paul Butterfield Blues Band and New York City's Blues Project. Wilson's production credits included Simon and Garfunkel, Sun Ra, The Velvet Underground, Eric Burdon and The Animals and Bob Dylan (three albums and Like a Rolling Stone).