Monday, 18 February 2013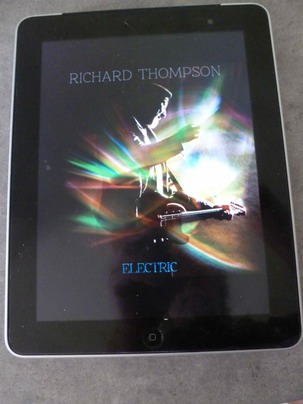 I have nothing left to say/But I'm going to say it anyway is the opening line in Randy Newman's I'm Dead (But I Don't Know It), a song that heads into the final choruses with the observation that Everything I write, all sounds the same/Each record that I'm making is like a record that I made/Just not as good.
Neither statement is in any danger of applying to a Richard Thompson album, and particularly not to his latest Buddy Miller-produced folk-power trio effort with Thompson's electric and acoustic guitar work firing on all cylinders as Taras Prodaniuk on bass and Michael Jerome on drums pound away in the rhythm section he's used for the best part of a decade.
It's difficult to avoid the impression that Thompson goes out of his way to come up with a different format to use when it's time to record a new batch of songs. There's his Cabaret of Souls: a Folk Oratorio, a piece originally commissioned by the International Society of Bassists who wanted something that featured the double bass and ran for around six minutes and ended up getting a song cycle. Cast your eye back a little further and there's Dream Attic, recorded live on tour with the same rhythm section and additional instrumentation from the versatile Pete Zorn and electric violinist Joel Zifkin. 
2007's Sweet Warrior had a few different players, and followed 2005's Front Parlour Ballads, recorded at home with RT playing everything apart from the percussion provided by 1000 Years of Popular Music colleague Debra Dobkin. Skip back past Live from Austin, TX and the cottage industry live releases for the merch table (The Chrono Show, Faithless, recorded as far back as 1985, Ducknapped, 1000 Years of Popular Music, More Guitar from Washington D.C. in 1988) and you're back in 2003 with The Old Kit Bag. 
Five studio albums, a song cycle along with half a dozen assorted live titles in various settings (I failed to mention Live Warrior in that run through, make that seven) represent a fair swag of product for a single decade and suggests a canny operator who takes care to vary what he's going to place out there in the market place, with a couple of box sets in there for good measure.
So you'd figure heading off to Nashville to record in Buddy Miller's living room was part of a deliberate policy of doing something a little different for each new release, something to talk about in the promotional interviews as much as a conscious pursuit of interesting sonic possibilities. Along with the aforementioned rhythm section, Electric features some unobtrusive rhythm guitar from Miller, fiddle from Stuart Duncan as well as vocal support from bluegrass sweetheart Alison Krauss and Anglo-Irish Siobhan Mayer Kennedy, wife of Miller's engineer.
Recorded on analogue tape rather than digital media over just four days after a brief rehearsal (it pays to have had some of the new material in the live set for a while) with most tracks only needing a couple of takes and minimal of overdubbing, Electric comes across warm and crisp from the flurry of handclaps and thumping percussion that launches Stoney Ground, a stomping romp through the obsessions of a toothless unashamedly lust-filled pensioner who falls for a widowed neighbour and her "honey pot", gets beaten up by the widow's sons for his trouble and ends up lying, dripping with blood, dripping with snot, but he's still dreaming of her you-know-what. 
"People over 55," Thompson points out, "still have urges," though one's not sure how closely such things approximate the regulation searing guitar solo that comes with the track's play-out.